Rapid Assistance Following Flood Disaster: KION Provides Electricians to Assist Supplier Falkenroth
Falkenroth Umformtechnik GmbH, based in Germany's Sauerland region, supplies forged parts to KION brands Linde Material Handling and STILL among others. With the flood disaster bringing production to a standstill, the KION Group quickly offers its support. Shortly after that, three industrial electricians from Hamburg make their way to Schalksmühle in North Rhine-Westphalia.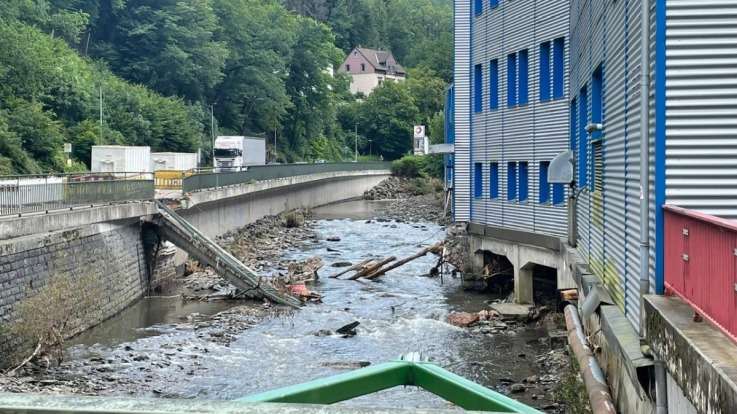 Johannes Lenzen is concerned when he sees the news in July. A member of KION Group's Procurement team, Johannes sees that parts of the Sauerland in North Rhine-Westphalia are under water due to the recent flooding. "Of course, I immediately thought about those affected and our suppliers in the region," recalls the Commodity Manager. Falkenroth Umformtechnik GmbH, a long-term supplier of forged parts for various series produced by KION brands Linde MH and STILL, is one of the companies he thinks of. After all, Falkenroth's plant is located right on the banks of the river Volme. Lenzen immediately tries to contact someone on site, without success. Shortly afterwards, he receives an e-mail from Falkenroth. "They informed their business partners that supply bottlenecks might occur and sent some photos of the situation on-site," describes Lenzen. The photos show flooding in the plant, with water up to two meters high in the production halls. After a short internal discussion, KION Group's Procurement team offers support and asks if and how they can help their business partners to overcome the difficult situation.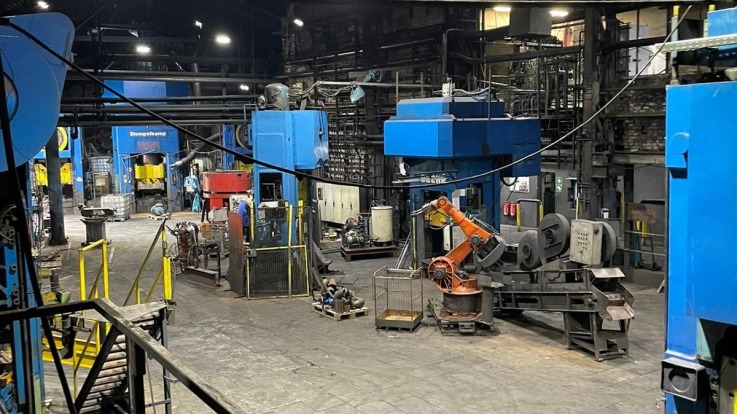 Assessment Reveals Need for Skilled Workers
Falkenroth gladly accepts the offer. After a specialist firm has cleared mud from the production halls, the company immediately carries out an assessment of its equipment. Fortunately, this reveals that the majority of forging presses is still intact but also that the switchgear in the plant is severely or even irreparably damaged. And without functioning switchgear, the presses will not work either. In order to remedy the situation, one very important thing is required: well-trained electricians. In addition to this, Falkenroth's internal team of electricians is currently understaffed due to sickness. KION therefore turns to its own plant locations. "On 22 July, we found out about the situation at Falkenroth through Procurement," recalls Dirk Schwenke, Maintenance Manager at KION subsidiary STILL in Hamburg. He asks around his colleagues to find out what can be done. What happens next exceeds even his expectations.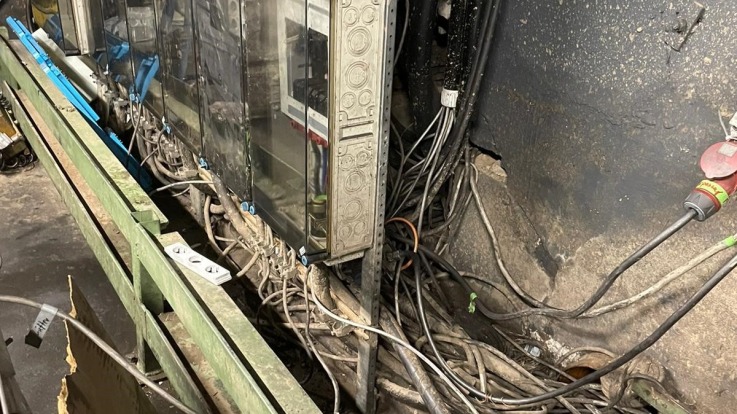 Help on Site within Five Days
It is quickly ascertained who can be freed up and how various tasks at the Hamburg site might be completed despite some colleagues being absent. Only five days after first becoming aware of the situation, three electricians from Hamburg arrive on July 27 to provide assistance at Falkenroth's premises in the Sauerland: Christopher Lorenz from Technical Support, Industrial Electrician Gunnar Kamusella and Trainer Thilo Rink, who oversees trainee mechatronics engineers. Bureaucratic hurdles are dealt with pragmatically. The colleagues of the deployed electricians who remained in Hamburg roll up their sleeves and double down to keep everything running smoothly at their own site despite the absences. "To witness this solidarity and unconditional willingness to help from everyone involved was unbelievable," enthuses Schwenke.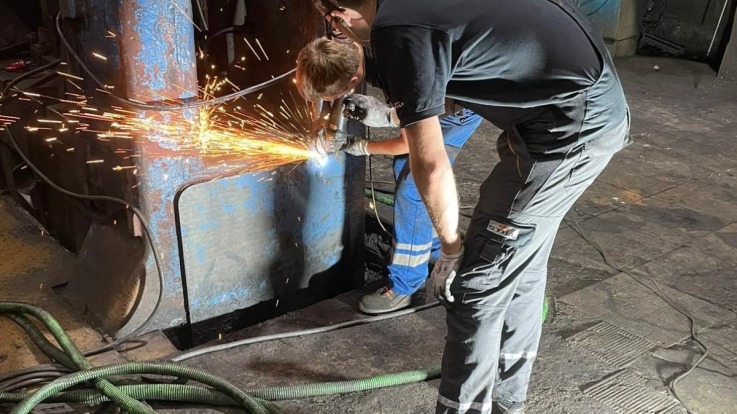 Setting the Course for Control Cabinets
Markus Bauszas, Head of Electrics at Falkenroth, and Dario Chiffi, Head of Maintenance at Falkenroth welcome the Hamburg electrician delegation to the company premises. Handily, the helpers from the Hanseatic city also have some spare parts with them that may be needed. Then the mixed team gets to work repairing the defective control cabinets. "We had to completely re-wire some of them or even re-build them from scratch," says Christopher Lorenz. After a few days working together and several successfully recommissioned forging machines, the three Hamburg electricians eventually make their way home. Completely exhausted but above all happy to have helped. Christopher Lorenz summarizes: "We received so much gratitude and appreciation. Our mixed team worked really well and the whole job was really enjoyable."
Enhanced Partnership
Shortly after the assignment, Falkenroth's Managing Director Rolf Wirfler directly addresses Dirk Schwenke in a letter, as a representative for all those who made this short-term assistance project possible: "Thanks to your employees, we were able to significantly reduce downtime at our production plant. Three of five machines are now up and running again. This may well be a record, when you consider how hard we were hit by the floods." Since then, three of four of the machines have been put into operation again—and Falkenroth and the KION Group have literally forged even stronger ties.