Sustainability
We are moved by sustainability.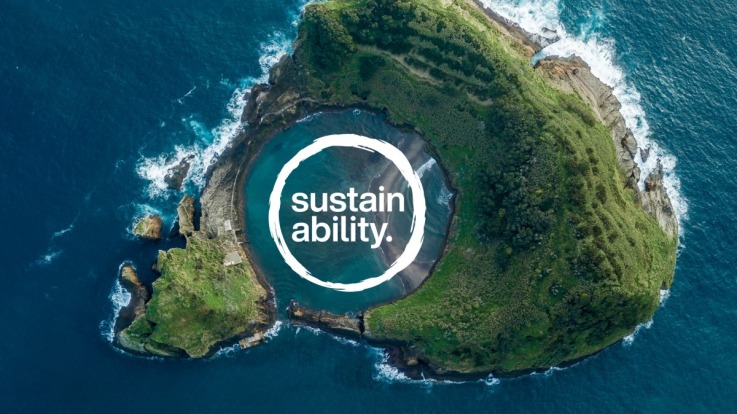 It is our ambition to be the best at understanding our customers' requirements and to provide them with safe, efficient and innovative logistics solutions specific to their needs. A key factor to this mix is sustainable business.
Our actions are guided by environmental, social and commercial aspects. We also help our customers to implement their sustainability programs, thus ensuring that a crucial ingredient for their success is also in place.
Operating sustainably
The KION Group is committed to operating sustainably. We are guided by the definition in the Brundtland Report from the United Nations:
Sustainable development is development that meets the needs of the present without compromising the ability of future generations to meet their own needs.
Sustainability affects all areas of our business, and the onus is on all of us to do our part. Through innovation, ideas and decisive actions, we ensure that we meet our goal of being a leader in sustainability. We have put in place a clear sustainability strategy, ambitious targets and effective measures to support us. Our annual sustainability report shows the progress we have made toward achieving our ambitions.
Blue Competence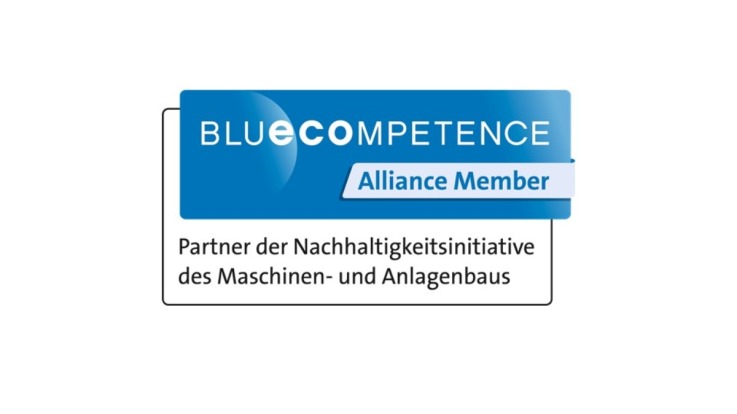 The KION Group and its operating units are also in regular contact with various stakeholder groups, including industry associations in which we are actively involved on sustainability issues.
The KION Group is a partner in the Blue Competence sustainability initiative. Blue Competence is an initiative of the VDMA German Engineering Federation, set up to promote sustainability in the industry, but also to share sustainable solutions in mechanical and plant engineering. As a partner of the initiative, we have committed to adhering to its twelve guidelines for sustainable action.
You can find out more about the twelve sustainability guidelines at
Sustainability reports
Every year, we publish information about our sustainability strategy and organization, focusing on the progress that we have made over the reporting period. The sustainability reports are part of our obligation to provide separate non-financial reports in accordance with sections 315b and 315c in conjunction with 289c to 289e of the German Commercial Code (HGB).
We also provide additional information beyond what is required by law. The reports are prepared with reference to GRI, SASB and TCFD.
Downloads for Sustainability Report 2022
Previous Sustainability Reports
Key sustainability figures
We use a wide range of relevant key figures to monitor our sustainability program, the most important of which are shown here. A selection of facts and figures on the various topics, along with the leading targets and status of the KION Group sustainability strategy, can be found in our presentation of key sustainability figures.
Download key sustainability figures
Sustainability ratings and sustainability indices
The KION Group's commitment to sustainability is recognized by investors, financial institutions and rating agencies. Here are some relevant examples.
Ratings
Rating
Scale
(min. to max.)
Score
Year
CDP (climate change)
D- to A
A-
2022
EcoVadis
Bronze, Silver, Gold, Platinum
Gold
2023
FTSE Russell ESG Rating
0 to 5
3.7
2022
ISS ESG Rating
D- to A+
B- (Prime Status)
2023
MSCI ESG Rating
CCC to AAA
AAA
2023
S&P Global CSA
0 to 100
62
2022
Sustainalytics ESG Risk Rating
100 to 0
20.6
2023
Vigeo Eiris ESG Rating
0 to 100
48
2022
Indices
| | | |
| --- | --- | --- |
| Index | Status | Inclusion |
| DAX® 50 ESG | Member | March 2020 |
| STOXX® Europe Sustainability | Member | December 2017 |
| FTSE4Good Index Series | Member | June 2019 |
Rating Organizations and Indices
CDP is a global environmental non-profit organization. Since 2002, investors have been collectively demanding through CDP more and better corporate environmental reporting. Today, over 515 investors with assets of US$ 106 trillion signed CDP's disclosure request to better understand a company's environmental KPIs, strategies and management practices.
By reporting via CDP, the KION Group makes details of its climate protection strategies and activities public.
The DAX® 50 ESG tracks the performance of the 50 largest, most liquid German market stocks that have comparably good performance based on Environmental, Social and Governance criteria. Further, the stocks must have passed standardized ESG screens related to Global Standards Screening, as well as the involvement in controversial weapons, tobacco production, thermal coal, nuclear power and military contracting.
EcoVadis is a global provider of sustainability assessments, information and collaborative performance improvement tools for global supply chains. The assessment methodology is based on international sustainability standards and includes criteria from the four topic areas of environment, labor and human rights, ethics, and sustainable procurement. The KION Group also applies EcoVadis on its own supply chain for greater transparency and responsibility.
FTSE Russell (the trade name of FTSE International Limited and Frank Russell Company) confirms that KION GROUP AG has been independently evaluated in keeping with FTSE4Good criteria and meets the requirements for inclusion in the FTSE4Good index series.
The FTSE4Good Index Series, developed by the global index company FTSE Group, is designed to measure the performance of companies with strong ESG (environment, social, governance) practices. The FTSE4Good indices are used by a wide variety of market participants to create and evaluate responsible funds and other products.
Institutional Shareholder Services Inc. (ISS) is one of the world's largest service providers for responsible investing. ISS ESG, the research and rating unit for ESG (Environmental, Social and Governance), frequently analyses the most important stock and bond issuers.
The annual S&P Global Corporate Sustainability Assessment evaluates the sustainability practices of more than 4,700 companies worldwide and is a prerequisite for the inclusion in the Dow Jones Sustainability Index (DJSI). The evaluation is based on financially relevant sustainability criteria.
MSCI ESG Research provides MSCI ESG Ratings on global public and a few private companies on a scale of AAA (leader) to CCC (laggard), according to exposure to industry-specific ESG risks and the ability to manage those risks relative to peers. Learn more about MSCI ESG ratings here .
DISCLAIMER
THE USE BY KION GROUP AG OF ANY MSCI ESG RESEARCH LLC OR ITS AFFILIATES ("MSCI") DATA, AND THE USE OF MSCI LOGOS, TRADEMARKS, SERVICE MARKS OR INDEX NAMES HEREIN, DO NOT CONSTITUTE A SPONSORSHIP, ENDORSEMENT, RECOMMENDATION, OR PROMOTION OF KION GROUP AG BY MSCI. MSCI SERVICES AND DATA ARE THE PROPERTY OF MSCI OR ITS INFORMATION PROVIDERS, AND ARE PROVIDED 'AS-IS' AND WITHOUT WARRANTY. MSCI NAMES AND LOGOS ARE TRADEMARKS OR SERVICE MARKS OF MSCI.
Sustainalytics is a global leader in ESG research and ratings. Today, Sustainalytics supports hundreds of investors worldwide who incorporate ESG insights into their investment processes.
The STOXX Europe Sustainability Index offers a consistent, flexible and investable representation of the largest European sustainability leaders based on environmental, social and governance (ESG) criteria. With a variable number of components, the STOXX Europe Sustainability Index covers stocks from 17 European countries. The ratings are based on the research approach of Bank Sarasin, with exclusion of tobacco, adult entertainment and defense & armament.
Vigeo Eiris publishes ratings and opinions using a variety of scores, assessments and written research to fulfil a broad range of market needs – including the launch of ESG indices powered by Vigeo Eiris in collaboration with Euronext and/or Ethibel.
Sustainable Development Goals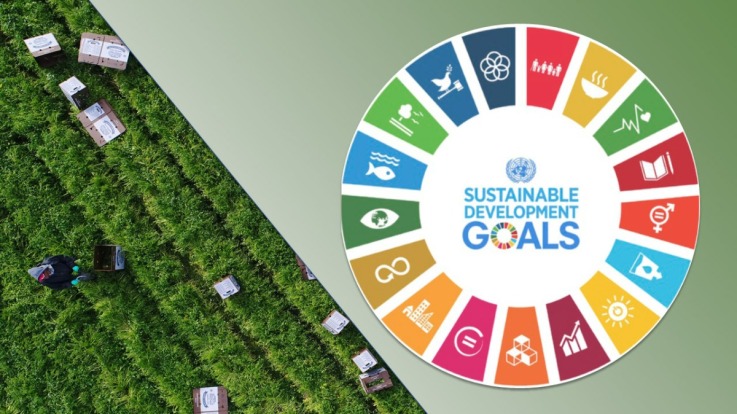 The 17 Sustainable Development Goals (SDGs) of the United Nations set out guidelines for greater sustainability at economic, social, and ecological level. To achieve these ambitious goals, all parts of society need to act together. To the Sustainable Development Goals of the United Nations.
Companies can use the goals to guide them as they steer their activities in a more sustainable direction. As a company with operations all over the world, the KION Group wants to contribute to the achievement of these goals. To this end, we integrated and evaluated the Sustainable Development Goals when we selected and defined the relevant topics as part of our materiality assessment in 2018.
As a first step, the sustainability coordinators of all Operating Units identified the sub-goals and business themes of each Sustainable Development Goal that are relevant to KION. The aspects identified at this stage were grouped into subject areas, which were used as a starting point for the list of potentially material sustainability aspects for the KION Group.
The outcome was that 8 of the 15 aspects identified were classified as material for the company. These material aspects were embedded in KION's sustainability strategy and have guided our actions ever since, shaping our contribution to the achievement of the Sustainable Development Goals (see SDG table below).
Our key sustainability goals
We have 8 aspects...
...which are spread over 7 Sustainable Development Goals (SDG)
[See explanations to the SDGs below the table]
Occupational health and safety
SDG 03
Climate change mitigation
SDG 07, SDG 13
Climate and environmentally friendly products and solutions
SDG 12, SDG 13
Sustainability management and stakeholder engagement
SDG 13, SDG 17
Safe and user-oriented products and solutions
SDG 03, SDG 12
Socially responsible supply chain
SDG 03, SDG 08, SDG 10, SDG 12
Environmentally responsible supply chain
SDG 12, SDG 13
Diversity and equal opportunities
SDG 07, SDG 10
Our sustainability goals in detail
The KION Group contributes to the achievement of SDG 3 in two key areas: by implementing effective health and safety management measures in the workplace and by offering products and solutions that aim to set new standards of workplace safety and ergonomics.
Our comprehensive HSE (health, safety, environment) management ensures that our workplaces are safe and the health of our employees is safeguarded. Metrics such as the illness rate and the lost time injury frequency rate provide a transparent picture of our progress in this area and a basis for the definition of concrete targets. To promote continuous improvement, we have implemented measures that reach virtually everyone in the company – from safety reminders at the start of meetings to the promotion of safe and ergonomic workplace design, and even campaigns to raise awareness about healthy eating.
Active and passive safety systems built into Linde and STILL industrial trucks ensure maximum safety and reduce the risk of accidents. At the same time, our trucks' decoupled operator cabs and shock-absorbing driver's workstations are designed to offer the highest possible level of ergonomic support. Dematic's logistics solutions use intelligent control software that helps to increase efficiency while also reducing risks and avoiding dangerous situations.
Climate protection is a core objective of the KION Group in the environmental sphere (see also SDG 13). We are therefore working hard to reduce the company's energy consumption systematically and we endeavor to substitute energy sources with lower-emission ones where possible. In this respect, our primary focus is on electricity, the main form of energy consumed at our plants.
To the greatest possible extent, we are shifting the electricity mix of our plants toward renewable energy sources. We are also using photovoltaic technology to generate electricity, for example at our Summerville site in the US state of South Carolina and at our plant in Pune, India.
Respecting human rights and compliance with essential environmental standards are fundamental principles of our activities – all around the world. We clearly state this in our statement on the KION Group's human rights strategy.
The KION Group strives to ensure the personal dignity of every individual and promotes mutual respect, regardless of characteristics such as gender, skin color, ethnic or social background, age, or religion. These principles are firmly enshrined in the minimum employment standards of the KION Group, which apply worldwide and across all Group sites. We are a global enterprise with a diverse workforce from all parts of the world. In addition to equality of opportunity and the fair treatment of all employees, the company's understanding of diversity therefore also involves tolerance and respect for different ways of thinking. Standardized talent management processes support the elimination of diversity-related barriers to career progression.
The high standards that we apply to our own practices also shape the setup of our supply chains. We require those who want to collaborate with us to show the same level of commitment to promoting diversity and equality of opportunity, and we expect to see this reflected in their actions. For example, our suppliers are obliged to combat all forms of discrimination under the KION Group Principles of Supplier Conduct. After all, we know that our responsibility does not end at the gates of our factories.
The KION Group is a trailblazer in the field of green intralogistics. Regardless of the drive technology, we design our products and solutions to have minimum environmental impact and maximum energy efficiency, because we want to offer our customers solutions that are not only ideally suited to their relevant area of application, but also climate-friendly, resource-efficient, and therefore cost-effective. Especially when it comes to developing sustainable drive technologies – such as lithium-ion batteries or fuel cells – we see ourselves as an industry pioneer that is making a significant contribution to the protection of our climate and the natural environment by reducing greenhouse gas emissions.
In addition to making our products and solutions as safe and user-friendly as possible, we always keep our customers up to date about how to use our products safely (see also SDG 3).
Socially and environmentally responsible sourcing processes, including defined minimum standards for our suppliers, enhance the sustainability of our production. Our expectations and aspirations are clearly outlined in a set of concrete requirements and rules. EcoVadis assessments are used to prompt suppliers to provide information about their sustainability performance.
We support the agreements reached at the Paris Climate Change Conference, especially the objective of limiting global warming to less than 2°C above pre-industrial levels. Against this backdrop, we set ourselves a climate target in 2018 based on scientific research: By 2027, we want to reduce our Group's energy-related emissions by 30 percent (reference year: 2017). Reducing our energy consumption – for example across our vehicle fleets – and using low-emission energy sources (see also SDG 7) are key levers we need to shift within our business to reach this climate target.
Certified lifecycle assessments of our most important products have revealed that energy and fuel consumption are the main sources of greenhouse gas emissions during their use phase. Enhancing energy efficiency is therefore a priority in product development. And we are also including our supply chain in our efforts to mitigate climate change (see also SDG 12).
In the KION Group, we know that it takes concerted action to effect lasting change. Close involvement of relevant stakeholders and targeted partnerships, aimed at achieving more by joining forces, therefore form a key element of our sustainability management. For instance, we support the Blue Competence sustainability initiative within the German Mechanical Engineering Industry Association (VDMA). And as a member of various other associations and boards, we are also involved in the development of environmental standards under schemes such as ISO, CEN, and DIN.