Strategy & Values
The KION 2027 strategy
To be a leader in intralogistics, a company needs a clear direction – today, tomorrow, and beyond. The KION 2027 strategy provides the direction of our ongoing strategic development. Our objective is to be a provider of end-to-end solutions in the material handling sector. This means being the best company in the world at understanding our customers' material handling needs and providing the right solutions on this basis. The path we take to achieve this is defined by the five fields of action of our strategy.
The five fields of action of our strategy
Energy
When it comes to efficient energy use, it is our objective to be the leading business in the material handling sector. Our trucks, warehouse trucks, and automated solutions all provide the highest levels of energy efficiency. By giving our customers a competitive edge, our products are strengthening our global market leadership. We will be expanding this global leadership in the coming years by developing new drive technologies for industrial trucks and providing related services.
Digitalization
We are the experts when it comes to digitalization. We develop innovative, digitally networked solutions – from stand-alone software to completely automated warehouses – to increase the efficiency of our customers' intralogistics. We are also systematically digitalizing our internal processes and are using advanced development methods such as agile invention.
Automation
We offer automation solutions that are tailor-made to each customer's requirements. This can be anything from an autonomous truck to a fully automated high-bay storage facility. Our solutions are scalable and can be easily expanded with further modules, allowing our customers to use automation effectively, up to and including in the lights-out warehouse.
Innovation
We are a pioneer that is driving innovation in the materials handling market. An effective innovation environment and state-of-the-art development processes allow us to create new technologies and products across segments. Our partnerships with research institutes, universities, other companies, and our customers ensure that our innovations are always closely oriented to the market and the latest technological developments.
Performance
We are continually raising our performance to maintain our leadership position over the long term. We achieve this through the ongoing improvement of our internal processes, which allows us to increase the performance of our products for our customers. As a strategic management holding company, we make the most of the synergies that arise within our multi-brand group in order to accomplish this.
Our shared KION Group values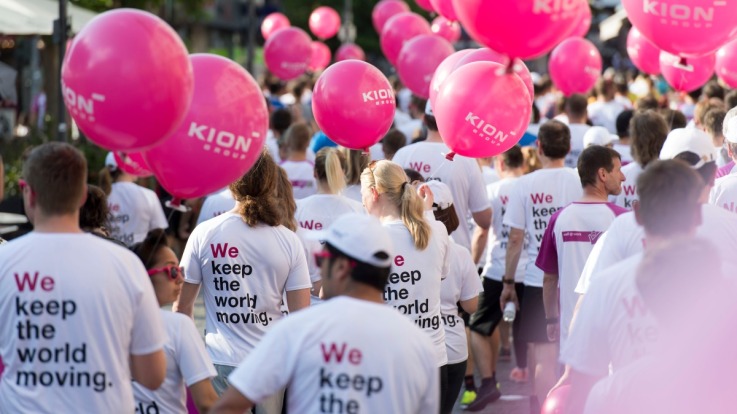 As a pioneer in our sector, it is important to us to be a role model, both internally and externally. Our corporate values – integrity, collaboration, courage, excellence – play a crucial role in this and influence our individual behavior and our interactions with colleagues, superiors, employees, customers, suppliers, and applicants.
Over 1,000 employees were consulted during the development of our shared values. Colleagues at all hierarchical levels and across all business units and regions were involved in the survey. This is how we ensured that our values reflect the entire KION Group. We firmly believe that this is the only way to ensure that our values are and remain an integral part of our everyday work.
INTEGRITY
We do what is right.

Our actions are guided by standards of sustainability, compliance, and ethics.

We keep our promises and practice what we preach.

We stick to our agreements.

We are committed to honest, open, and timely communications.
COLLABORATION
We believe in one another.

We approach our tasks with a strong and collaborative team spirit.

We share ideas openly and strive for full commitment.

We establish strong long-term relationships.

We treat others as we would like to be treated ourselves.
COURAGE
We shape change and innovation.

We promote new ideas.

We appreciate diversity and a wide range of opinions.

We rely on new solutions and take calculated risks.

We take an active role in achieving our shared targets.
EXCELLENCE
We create exceptional value for our customers.

We shape our sector through innovation.

We understand our customers' requirements and create superior solutions and services.

We are continually improving our efficiency and reducing complexity.

We invest in our employees and in technology to ensure our future success.