Sweet temptations to celebrate easter
When spring arrives, it means once again Easter is just around the corner. Certain sweet treats are a must at this time of year: namely, premium chocolates and traditional marzipan. But before they finally land in the traditional Easter baskets, these goodies already have an exciting journey behind them, taking them through the sophisticated intralogistics systems that KION subsidiary brands Dematic and Linde Material Handling use around the world to assist the Easter bunny.
Easter Bunny Intralogistics: Precision timing for the festival
In Germany alone, over 200 million chocolate bunnies are sent out each year, many of them to other countries. In order to handle this mammoth task, preparations begin during the preceding fall. The first ships arrive at the Port of Hamburg as early as September, carrying cocoa beans, cocoa mass, and cocoa butter from Latin America and West Africa, with up to 15 containers handled each day during busy periods. Logistics companies then collect the raw materials and store them for chocolate manufacturers, or forward the goods to the relevant production locations. Then, once the chocolate bunnies are ready, they are collected and taken to joint warehouses run by chains and online retailers. From there, they are sent to outlets or direct to the customer. During their journey, they need to be treated like fresh eggs, as customers do not appreciate any breakages en route. The (intra)logistics experts know this and use appropriate packaging and careful handling to ensure the goods arrive in one piece.
What would Easter be without chocolate? It's not for nothing that they are among the world's favorite candy. Chocolate specialties from Belgium are particularly popular with connoisseurs due to their intense flavor. One reason for this is the superior quality of the cocoa beans used. Another is the special production method used in Belgium, where roasted cocoa beans are ground into tiny particles (12 microns in comparison to the usual global standard of 24 microns) for a full-bodied flavor experience. Kim's Chocolates in Belgium is one company that meets these high standards, not only in terms of chocolate production but also in intralogistics. KION subsidiary Dematic has made a significant contribution to help create a modern warehouse and production environment which meets the specific requirements for producing high-quality products. After all, processes need to interact seamlessly and effectively in order to handle the various ingredients. This ensures that the premium cocoa beans are used to make the perfectly formed chocolates, with their irresistible fillings, as well as chocolate bars and Easter bunnies, all of which are delivered in attractive packaging.
Fully automated from production to the chocolate box
In the ultra-modern production facility at Kim's Chocolates in Tienen, Belgium, the chocolate products are usually transferred from one processing stage to the next via conveyor belt. The company also uses three fully automated, i.e., automated guided vehicles (AGV) from Dematic in its warehouse. These are used to bring newly delivered packaging materials from incoming goods to the packaging warehouse, and from there to the production area and vice versa. They are also used to take ready-packaged products to the outgoing goods warehouse. The AGVs play a key role in moving the famous Belgian chocolates: After the premium confectionery products roll off the production line, the AGVs take them from the production area to the packaging area, where they are sorted into different combinations in attractive boxes. Once filled, the chocolate boxes are taken to one of the many warehouses. There is room for around 6000 pallets, each carrying stacks of the sweet delicacies, making chocolate dreams a reality all year round, not just at Easter.
Seamless intralogistics for ultimate marzipan enjoyment
For those who prefer marzipan instead of or in addition to their chocolate at Easter, traditional firm Alfrus, based in Northern Italy, is on hand to help. Whether blanched, roasted, or unprocessed, tons of almonds in countless shapes, colors, and types roll off the production line here. Alfrus then uses them to make premium marzipan and many other almond products at its sites in Coseano and Nichelino. A number of different work steps are required for this and - thanks to the KION brand Linde Material Handling - automated processes will also soon be introduced to the warehouse to help produce the delicious final product. In the two warehouse areas designed by Linde Material Handling - one warehouse for raw materials and one for finished products - a finely tuned system of smart shuttles is currently being installed. These will be used to store and retrieve goods on the racks where multiple-depth storage is used to achieve a high utilization rate. Vertical conveyors transport the shuttles and pallets to the right level and automatic conveyors transport the almonds from the source location to their destination, i.e., whichever processing step comes next.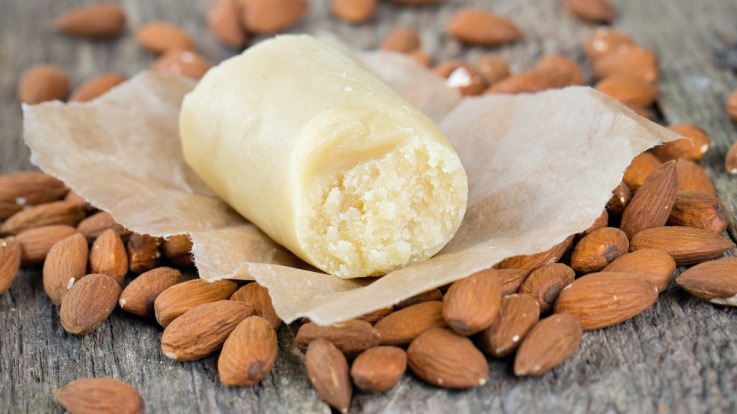 In the raw materials warehouse, the Warehouse Management System's software is used to transport the almonds needed for the relevant order to the appropriate machine for blanching, roasting, grinding, or any of numerous other steps. The almonds are usually washed first and then transformed into basic products for other companies. The company uses a similar process to make its own marzipan. The finished products are finally packed into boxes or packages on a pallet as part of a fully automated process. After palletizing, an automatic wrapping system helps to secure the load and AGVs transport the loaded pallets to the finished products warehouse, which is also automated, from where the goodies are then sent around the world.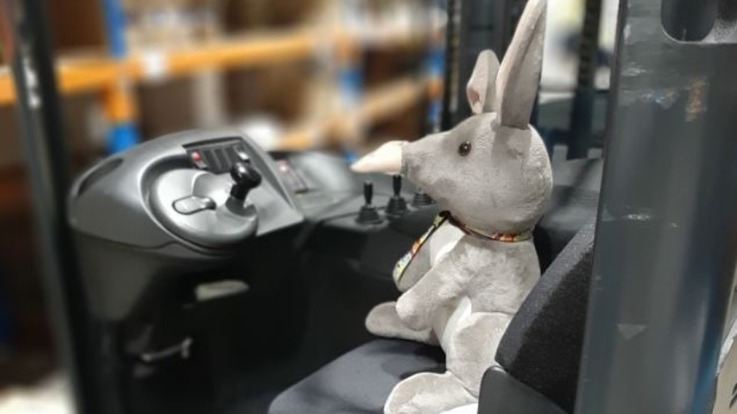 "Easter Bilbies" a favorite in Australia
While, in Europe and America, it's the Easter bunny that brings sweet treats for everyone to enjoy, in Australia, an animal welfare initiative means another animal is charged with performing this important task: namely, the bilby. Haigh's Chocolates started making a chocolate version of this cute marsupial back in 1993. With its "bunny-free" product range, the traditional company aims to draw attention to the endangered bilby, which is increasingly being superseded by the European rabbit in Australia. Part of the revenue generated is put towards bilby breeding programs. To date, Haigh's Chocolates has produced more than 800,000 chocolate bilbies, every single one of which has been transported using Linde Material Handling forklift trucks and warehouse trucks.
Haigh's has had a large fleet in its chocolate warehouse for over 15 years, and also has special support at Christmas and Easter in the form of additional rental trucks from Linde Material Handling Australia. In this way, the trucks from our KION subsidiary brand are making their own small contribution to the conservation of Australian wildlife. How the countless candies find their way into their hiding places around the home - and whether a bunny or a bilby brought them there - remains a mystery, at least for the younger Easter fans among us. One thing is certain, though: The goodies sure have an exciting adventure through the world of intralogistics before they arrive.