Healthy and safe at work: The secret behind our success in China
Paul Green has been an expert in the field of safety for more than 22 years. As Head of Health, Safety, and Environment (HSE) of the KION Group he visits regularly all the plants in the KION Group around the globe to ensure that safety standards are met everywhere. His tour covers production, logistics, and research & development areas. And he has already seen a lot. But when talking about China, he can hardly hide his enthusiasm: "The safety in the production sides of China is a truly successful story".
The "Chinese speed" of improvement
When it comes to what impressed him most about the "success story" in China, Paul expresses the word "the Chinese speed". He still remembers his first visit in 2013 at the plant of Baoli, a new KION family member at that time: "My initial impression was that only the basic precautions were in place." However, within 4 years, not only has Baoli achieved the KION HSE Top 40 — an comprehensive HSE management system that specified 40 goals to improve employees' safety, but then went on to successfully achieve the world renowned ISO 14001 and 45001 certification — "It's very impressive!"
Similar performance happened at Linde Material Handling (China): Within several years it became one of the best sites in the KION Safety Championship, a measure to encourage competition between KION sites in the world, with the aim of raising standards across the Group. Every month the sites send in safety goals and updates, which in turn provides the basis for the league table. "Both sites stay in the top year on year, even though we increase the scope and standard of our audit and survey each year," says Paul. The consistent improvements have paid off. "Chinese people are quick to accept and implement suggestions. This is a huge benefit." He adds.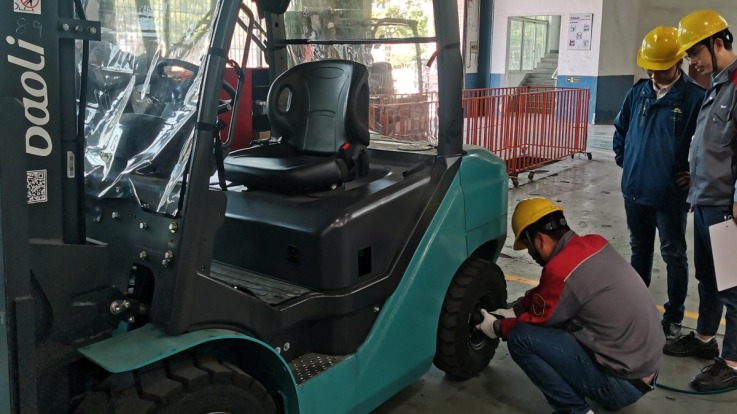 Every beginning is difficult
Lin Yixin, HSE & KION APAC Sustainability Manager joint Linde MH (China) 8 years ago, in a time when the topic "Health & Safety" just started to gain people's attention. He recalls: "Our basic knowledge was weak, and we had to learn a lot, especially about machine safety, chemicals, and risk assessment. But we were eager to learn."
A comprehensive and intensive training program was carried out for the Chinese colleagues by experts from Linde EMEA. "It was crucial for us at the beginning. Nowadays we still receive great support from our KION colleagues. If we identify a problem, Paul and other experts help us to find a solution," says Yixin.
Except for gaining knowledge, building safety awareness was another key challenge right at the beginning. Qiuwei Wu, HSE Manager at Baoli, believes that leading by example is the right approach when it comes to convincing people of the importance of HSE in China: "Managers must first raise awareness in order to actively promote a safety culture to all employees." Thus, the first thing he and his team has prioritized was to implement the Five Golden Safety Rules set by the KION Group as guideline to all supervisors.
Looking back, both HSE managers still believe that these vigorous efforts were "culturally significant" and have paved the way for future success.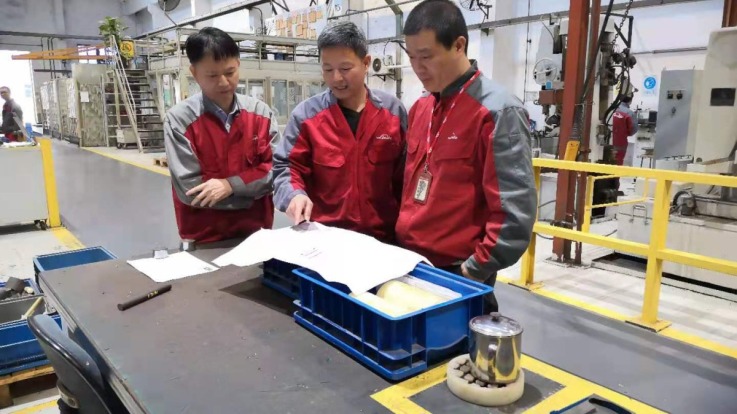 A commitment to progress
"At KION, we are always fighting for improvement. "says Paul. This goal of progress is one that the Chinese team embraces, and they know that creative ideas are needed, especially they put emphasize on precautionary measures in order to prevent the accidents from happening. Alone in 2020, Linde MH (China) and Baoli has implemented respectively 43 and 35 various safety improvement measures. One of these initiatives refers to the National Safety Month in June each year: Linde MH (China) and Baoli dedicate 4 weeks to learning about and improving workplace safety, with meetings, training, internal competitions and numerous other measures.
Though the field of safety is not new anymore, both HSE experts know the importance of continuously strengthening the awareness of safety in a corporate life. Linde China has created a special HSE column on the social media platform WeChat for company internal use to reinforce the HSE mindset. "For instance, the current issue focuses on vehicle safety. It's never a waste of time to remind people of the basic rules." Yixin explains.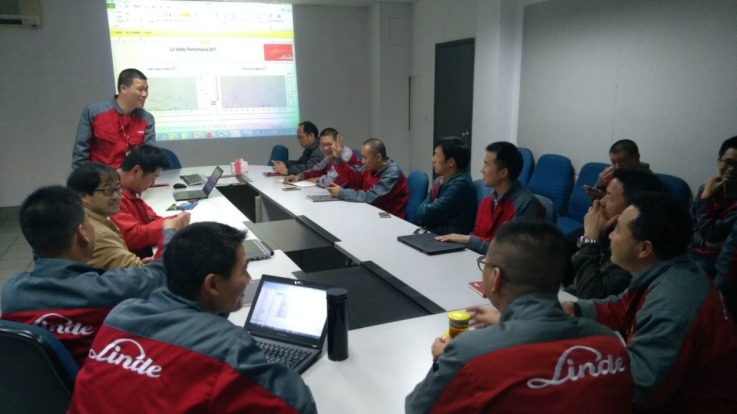 Everyone is a safety ambassador
What has been the most positive change over the last 5 years? Three people speak with one voice: People start to develop the initiative on their own to pursue safety goals.
Yixin believes that the best indication of increased safety awareness is when employees begin to take ownership of their responsibilities: "At the beginning, safety measures were carried out in a centralized mandatory style. Nowadays more and more departments implement their own initiatives." He pointed out that Linde MH China has identified about 500 safety hazards reported by the production staff within 2 years. As a result, there are hardly any LTIs (lost time injuries) in Xiamen.
The same way, each workshop at Baoli conducts TOOLBOX safety meeting once every two weeks. "The HSE department only defines the main topic, they come up with ideas of their own. Sometimes they have really great ideas!" Qiuwei enjoys seeing people reinforce their own safety culture. "After all, safety is a collective interest for everyone. That's why it is important that all site staff act as safety ambassadors," says Yixin.
Five Golden Safety Rules at KION
I live safety.

I demand safety.

I train safety.

I communicate safety.

I am responsible for my employees.