Even in the sports world: Intralogistics plays an important position
Most, if not all people wear sportswear or engage in different sports activities daily. Believe it or not, intralogistics plays a significant role in that. Whether it means distributing new jerseys with Dematic automation technology or helping a trial biker break a world record using a STILL forklift, there are many interesting examples of how intralogistics, too, is a team player.
Picture an everyday customer walking into his local sportswear store. We will name him Shai. Shai stops by the store every two weeks to check out some of the newest releases from Adidas and other well-known brands. This time around, Shai did not just shop but also asked himself, "How do Adidas and other brands manage to release new clothes and equipment so fast?" He wasn't certain, so he decided to ask someone who knows.
An automated game plan for time and efficiency
Sometimes, a company and its sports brands grow so fast – it starts facing distribution challenges. That's what happened to Adidas. The company's Northern Europe operations had problems keeping pace with its brands' rapid growth. That's when it decided to come up with a game plan. But not without the help from our intralogistics solution provider: The KION brand Dematic.
The main challenge for Adidas was the efficient and timely distribution of its top-tier sports footwear, apparel, and accessories. And that's why Adidas chose Dematic. Because it offers "automated solutions that greatly increase efficiency and throughput rates, especially for e-commerce. It's one of our biggest advantages," said Mason Wang, Dematic International Trading Ltd., Shanghai. In China, for example, Dematic and Adidas worked together to develop the Suzhou X project – a large warehouse solution including thousands of pallets and a 20-meter-high Multishuttle system, among other components and equipment. So, it's safe to say – it isn't Dematic's first rodeo. They even assisted Adidas with other ventures, such as automation projects for distribution facilities in Germany and Australia. Therefore, Dematic and Adidas have already started developing a friendship.
Adidas used to manage four different warehouses to serve its five key brands – even though it could replace them with one automated distribution facility instead. So, after 18 months, Adidas had put to gether a 350,000-square-foot distribution centre in Trafford, Manchester. That's when it passed the baton to Dematic. Dematic then equipped the warehouse with large, automated storage and retrieval systems (AS/RS), allowing operators to process up to 24 orders simultaneously. It also enabled workers to pick over 40,000 split case items daily. In addition, space utilization was improved drastically. The result is a flexible solution packed with efficient, time-friendly distribution processes. Tim Adams of Adidas Group confirms that automation now allows the company "to handle a lot of volume in a relatively small amount of space, which keeps overheads down."
So Shai, as you can see: Dematic really helped Adidas knock it out the park!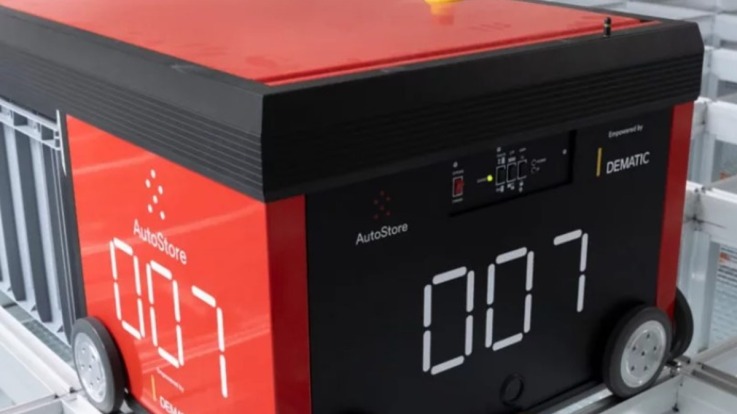 An impactful and sustainable solution with AutoStore™
Adidas wasn't the only sports company that needed a helping hand. Snowleader, a French retail company specializing in outdoor sports, needed someone in their corner. And that someone was also Dematic. Like a soccer team that wants to become more successful over time, Snowleader was looking for a good coach.
Last year, Snowleader asked Dematic to help automate its new warehouse in Le Versoud in Isère. Like Adidas, the company's main goal was to find a solution that would support its growth – especially during peak times throughout the year. That's where Dematic was able to step up to the plate with an AutoStore™ solution . AutoStore is robotic storage and picking system used to automate logistics processes. By integrating the solution into Snowleader's warehouse, Dematic was able to optimize the company's customer order preparation process. So much so that the president of Snowleader, Thomas Rouault, explained that it could "extend the promise of next-day delivery to most of our European customers – with a cut-off that we can go from 2 p.m. to 4 p.m. then 5 p.m. over time." Not only that, but the solution also enabled the company to contribute to sustainability efforts, like limiting shipping boxes. It was a big win, hands down.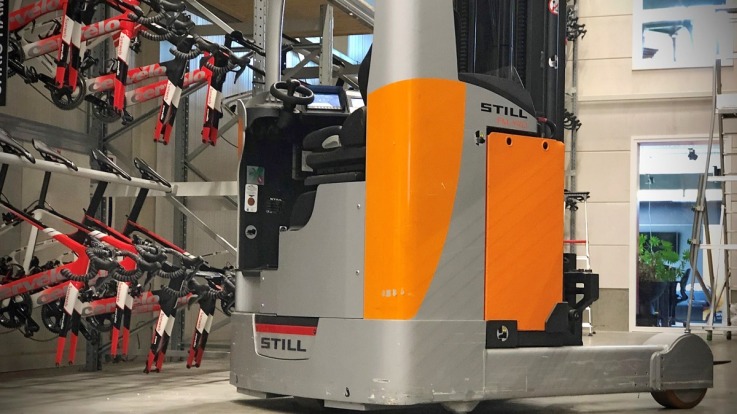 And guess what, Shai? Intralogistics specialists like KION Group even have solutions for 'bigger' items…
A space-saving storage solution for the win!
Along with apparel and outdoor equipment are also larger products, like bicycles – requiring special attention in the warehouse. Take Derby Cycle as an example – Germany's largest bicycle manufacturer based in Kloppenburg, Germany. It has a 24-aisle, 48-row high-bay warehouse, which can carry up to 150,000 bicycles. Even though this seemed like plenty of space, warehouse management was still tough. But thankfully, the KION daughter STILL was on the ball in tackling this challenge.
STILL had a space-saving solution. It developed eight STILL MX-X narrow-aisle trucks with navigation customised to accommodate stanchion frames. Since the e-bike business has become so humungous, a "space-saving storage solution became indispensable," said Renke Wulff, the STILL project manager in charge of the MX forklifts and stanchions. Not only can three movable stanchion frames be stacked to save space. Drivers now have an easier time squeezing between narrow aisles and can pick bikes off shelves up to 10 metres high. And what about safety? Well, no sweat. Each truck has a custom-made platform placed on the fork, which is then secured by a locking mechanism. If the locking system isn't in place – the trucks can't enter any aisles. It's as simple as that. It's a safe, flexible, and cost-friendly solution.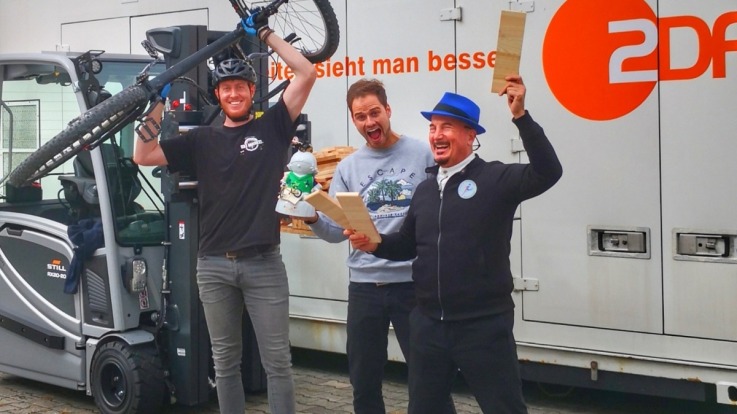 But let's take a timeout from that topic and move on to another cool subject…
Breaking records with a STILL forklift.
By now, it's obvious that Intralogistics tools and solutions positively impact warehouse processes and distribution. Without them, the sports industry would face some tough sledding, especially in modern times where the demand for products is increasing drastically. But Intralogistics companies don't just help sports organisations on the back end. Even when help is needed onsite, companies like STILL have many skills and products that are up to scratch.
In 2020, Felix Kaiser packed a punch by breaking the trial bike world record in board smashing. Not only did he use a saddleless bicycle to overcome tricky obstacles and smash eight boards within three minutes. He also did it at crazy heights. And all of that without laying one foot on the ground. But the question is: who or what transported him to the top? Long story short, he received support from a STILL RX-20-20L forklift. What seemed like a small task proved to be a big help to Felix, who now holds the trial bike world record in board smashing. So, even onsite, intralogistics companies can be great team players.
You say Mountain. We say Linde Factory Train FT10
Intralogistics companies have tools that can help athletes, like trial bikers, reach high destinations. But what about transporting items, such as food and beverages to ski resorts in the mountains? At this stage in the game, everything is possible. Because Linde Material Handling, another KION brand, showed us it's possible.
Ask Wirtshaus am Giggijoch: a restaurant positioned at an altitude of 2,283 metres at minus 12 degrees in the Ötztal Alps, Austria. The restaurant offers various food items, like fresh cakes, yeast dumplings, and strawberries. But there is only one way they can receive the goods needed to serve their snow-hungry customers: a Linde Factory Train FT10. By transporting goods from the mountain station to the Giggijoch restaurant through a 150-metre-long tunnel, this tugger train provides the restaurant with enough goods to serve its 4,000 guests, particularly during the peak season. And it isn't necessarily an easy task. The train must overcome gradients of up to 15 percent and turn tight corners. But thanks to its stellar manoeuvrability – it's no issue. Manuel Köll, deputy operations manager at Bergbahnen Sölden, even described the solution from Linde MH as "perfect."
But hang tight Shai – were at the home stretch. Wait until you hear this…
A short-term rental service that goes a long way
Obviously, intralogistics supports many sports companies in terms of merchandise, bicycle, stunts, as well as food & beverages. But people may be blind-sided to hear that the industry is even involved in sports practiced behind the wheel. That's right – even organisations, like Formula 1 can benefit from intralogistics. And once again, Linde MH proves this by supporting the Renault Sport Formula 1 team.
Imagine having to pack for a race, and you only have one day to do it. For Geoff Simmonds, Race Team Coordinator at Renault Sport, this used to pose a concern. But ever since using Linde's Short-Term Rental (STR) service – it quickly became a concern of the past. By implementing Linde forklifts, the team can efficiently load all their equipment and use the rentals to support racetrack construction. STR has been a smooth, reliable, and flexible solution for years. And, of course, the Renault team greatly appreciates the support. "By working with Linde MH, we can concentrate on what is really important and no longer have to worry about things that are not part of our core business," says Simmonds.
Alright, Shai, we could go on like this for hours, but we think you now understand how intralogistics works around sportswear and where the KION brands are involved, for example. Here is a short summary of it:
The intralogistics finale
Intralogistics companies contribute to the sports industry in several ways. Whether it's helping a company with distribution processes, storage issues, breaking world records, or even loading sports equipment – their role in the sports world is becoming increasingly popular. Thanks to efficient solutions and technology, more and more opportunities will arise. "Companies like Dematic have proven their ability to complete larger projects, which will definitely open up the opportunity to work with other brands in the future" says expert Mason Wang. And, of course, the same can be said for KION's other brands and solution providers.