The KION Group is continuing the expansion of its Supply Chain Solutions (SCS) and Industrial Trucks & Services (ITS) segments in 2020. The Group is boosting its global software expertise with the acquisition of software vendor Digital Applications International Limited (DAI), while the construction of an additional plant for counterbalance trucks in Jinan, eastern China, will expand its product portfolio in one of the fastest growing and most important markets.
The KION Group will be investing heavily in its medium to long-term growth in 2020. Following a successful 2019 , the Group is well equipped to continue benefiting from global megatrends over the coming years. "Although the economy is expected to weaken and the market for industrial trucks is losing momentum, we anticipate that we will continue to generate profitable growth and further improve our market position in 2020," says Gordon Riske, Chief Executive Officer of KION GROUP AG. "Over recent years, we have achieved industry-leading profitability and a strong cash-flow position. This allows us to make extensive strategic investments in 2020." And it is doing so in both segments. In Supply Chain Solutions (SCS), for example, through the acquisition of the British software vendor DAI, and in Industrial Trucks & Services (ITS) through, among other things, the construction of an additional plant in Jinan, China.
Greater software expertise through DAI
The KION Group continually develops new digital products and allows customers to compete in the market. Now, it has acquired Digital Applications International Limited (DAI), a UK-headquartered software company specializing in logistics solutions, with offices in London (UK), Manchester (UK), Aberdeen (UK), Basel (Switzerland), and Shanghai (China). It generated sales equivalent to 40 million euros in fiscal 2019 – and is growing profitably.
DAI significantly expands Dematic's digital offering to support the movement, storage, and distribution of goods through the entire supply chain. Both companies have been strong partners for many years. DAI has industry-leading logistics automation software that expands Dematic's warehouse management system (WMS) and supply chain execution capability, enabling Dematic to offer a full range of solutions for our customers' fully automated, part automated and manual warehouses as well as the wider supply chain.
"Innovative software is key to our future success. By bringing together market-leading hardware and software, we are creating significant competitive advantages for our customers," says Gordon Riske about the acquisition. "KION is taking an essential step to support the digital transformation of our customers. The addition of DAI provides our customers a fully integrated supply chain offering that can quickly convert a consumer click into last mile delivery. DAI's offering provides powerful add-on capabilities for more experienced customers as well as an entry point for customers early in their automation journey."
Expanded business in the growth market of China
The KION Group is not only expanding the SCS segment but also investing in its industrial truck business. The company is setting another milestone for its growth strategy in Asia. The global leader in logistics is building a new industrial truck plant for counterbalance trucks in Jinan, the capital of the Chinese province of Shandong. By expanding its product portfolio, the KION Group intends to capture growth opportunities in the Value segment and profit even more from the electrification of industrial trucks in China.
According to the plans, the plant will come on stream in 2022. The 223.000m² site of the KION Group – equivalent to more than 31 soccer fields –will incorporate a R&D center, a training center, administrative offices, and a state-of-the-art plant manufacturing industrial trucks by KION brand companies Linde MH and Baoli.
"China remains one of the fastest growing markets worldwide and plays a key role in our growth strategy," says CP Quek, Chief Asia Pacific Officer and member of the Executive Board of KION GROUP AG. Over the last ten years, the local market has more than tripled in size and now accounts for around 30 percent of the global market for industrial trucks. Around 473,000 trucks were sold here in 2019. "The new, highly automated plant, the new KION global competence center for value products and the expansion of our sales and service network will allow us to better serve our customers in the fast-moving Chinese market as well as the global demand in the value segment."
About KION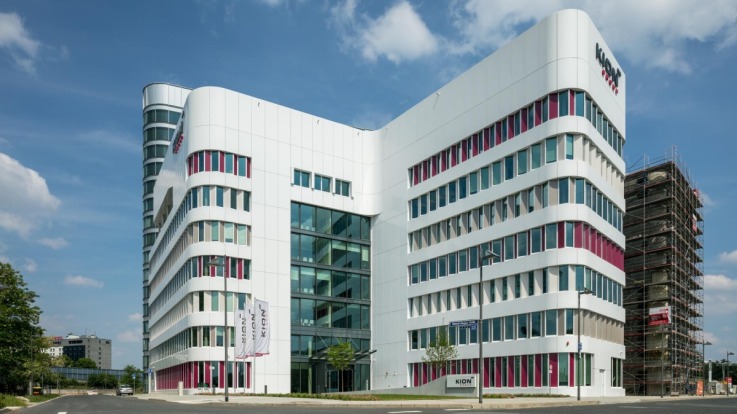 Business model and organisational structure
The KION Group's business model is designed so that customers of all sizes and from all sectors can obtain the full spectrum of material handling products and services from a single source. Thanks to its broad technology base, diversified product portfolio and worldwide service network, the KION Group is able to bring a comprehensive portfolio of such products and services to the market.
For internal management purposes, the KION Group has divided its operating business into two segments. The industrial truck business, including the supporting financial services, is shown in the Industrial Trucks & Services segment, while activities focusing on end-to-end supply chain solutions make up the Supply Chain Solutions segment. The two segments complement each other in terms of their respective market position and regional presence.
Objectives of the KION 2027 strategy
The KION Group forged ahead with the implementation of its KION 2027 strategy during the reporting year. The KION 2027 strategy provides the framework for profitable growth in the Group and specifies groupwide targets.
The KION 2027 strategy is unlocking the potential of both operating segments and placing an even greater focus on a shared, customer-centric innovation, sales and brand strategy. The emphasis is on developing and marketing integrated, automated and sustainable supply chain solutions and mobile automation solutions for customers around the world. In the Industrial Trucks & Services segment, products and services are being transitioned to sustainable energy concepts and being complemented with consultancy and project work. And in the Supply Chain Solutions segment, the range of options for customers is being expanded through system solutions for special requirements in the relevant customer segments.