Sustainable logistics solution from 2 strong brands
In 2000, KION brands Linde Material Handling and Baoli in China were awarded major contracts by the Chinese truck manufacturer Sinotruk. The two KION subsidiaries worked closely together to supply Sinotruk with the decisive one-stop solution, which particularly addressed the individual requirements of what is now the third-largest manufacturer of trucks in China.
The China National Heavy Duty Truck Group Co., Ltd. (Sinotruk for short) was founded back in 1930 and became well-known in 1960 with the development and manufacture of China's first heavy-duty truck. Since then, Sinotruk has been on a growth trajectory: Its current product range includes trucks, special vehicles, buses, engines and transmissions, as well as vehicle parts and components which are sold in more than 110 countries and regions throughout the world. In 2020, Sinotruk sold more than 500,000 commercial vehicles, and also invested in a new 2.1 million square meters truck plant in the city of Jinan. With this expansion in production capacities, the requirement for forklift trucks also increased. And, as in every area of production, the demands in terms of quality and efficiency were also high here.
Combining the best of two worlds
"Our goal is to ensure a high level of efficiency when transporting our heavy components. We expect the forklift trucks used to handle the high transport loads in our plant and to avoid all unnecessary downtimes," explains the head of Sinotruk's intelligent logistics center. He is aware that the supply of materials is of vital importance for production efficiency.
In August 2019, Ai Jianping, head of sales at the Linde MH (China) branch in Jinan, contacted the customer. In these discussions, he discovered that the Sinotruk affiliate was intending to buy a large number of forklift trucks and was planning a public tender for a large stock order.
For Xie De'an, Senior Vice President of Sales and Service at KION China, this was a key moment for KION: "The biggest advantage of our one-stop solution is precisely that we can offer a portfolio of services and products in different price brackets in line with the customer's requirements—and all from a single source." He adds that Linde products meet more upmarket needs, while Baoli caters to the value segment, with both brands using German premium technology. "We also have comprehensive and flexible models to suit the customer's needs when it comes to services and after-sales service," explains Xie De'an. In just a short space of time, the KION Sales Director put together a team, including Linde MH (China) and Baoli sales, and set about creating the carefully thought-out offer. The other eight companies taking part in the tender were local brands that were mainly competing on price.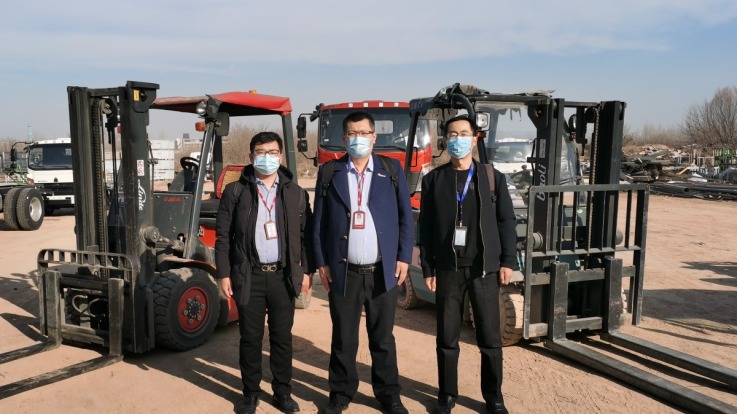 First-class consulting meets broad product portfolio
The KION team offered a one-stop solution and was ultimately awarded the contract with an order volume of almost 300 forklift trucks. Xie De'an describes what lay behind the success: "Our strength lies in precisely understanding the customer's needs and providing them with the most suitable solution." Another key factor in the tender was, of course, the close collaboration between affiliated brands Baoli and Linde MH (China). As an example, he cites Sinotruk's production line for complete trucks, with its high capacity utilization. Linde MH's electrically powered forklift trucks can operate for around 10 hours at a time, before needing to visit the charging station. Sinotruk's truck parts plants, however, place greater emphasis on cost efficiency, while ensuring the forklift trucks used are just as reliable and safe. A profile that entirely fits with the Baoli brand.
The feedback from Sinotruk on its collaboration with KION Group is also positive: "The technical team is highly experienced and fully committed to its task. Thanks to KION's wide range of products, we are able to meet all our requirements with just one supplier. The after sales service, also a one-stop shop, is just as straightforward and high quality."
Taking the next step together: heading for automation
After the customer was satisfied with the first product batch, changes were subsequently requested in the area of automation: The requirement was for "a highly efficient, automated supply system to convey small components to the individual production lines," according to the customer order. With global competition intensifying, a strong trend toward automation is also emerging in large Chinese companies like Sinotruk, who want to increase their long-term production efficiency.
In light of this, Linde MH (China) suggested replacing the existing magnetic driverless transport system with a laser-guided solution. These driverless transport systems achieve a top speed of 2.7 m/s, which is far higher than the industry average of 1.6 m/s. This solution doubled the efficiency and also led to another order, this time for 79 automated logistics trucks. "As key automation product in logistics, the trend for driverless transport systems will continue to grow. We are well prepared for this," stresses KION head of sales Xie De'an.