The Intralogistics Behind (and under!) the Christmas Tree
The Advent season has begun and Christmas is getting ever nearer. What an exciting moment is it when you finally put up your Christmas tree, decorating it with all sorts of festive ornaments. Having everything ready on time for the holidays is dependent on a whole host of intralogistics processes. We take a look at the supply chains and processes behind festive items like Christmas trees and fairy lights, and show how KION brands Linde Material Handling, STILL and Dematic are working behind the scenes to make sure everyone has the perfect Christmas.
The Christmas tree has been a symbol of Christmas for hundreds of years. Since long before the birth of Christianity, evergreen foliage and trees have been of special significance for people during the winter months. In ancient times, it was customary for people to hang evergreen branches above doors and windows, in the belief that it would ward off evil spirits and keep diseases at bay. Even back then, these activities culminated around the winter solstice on December 22. People believed that the reason winter came every year was that the sun god had become sick and weak. The solstice meant that the sun god was finally starting to recover – and evergreen branches were intended to be a reminder of all the greenery that would grow again when the summer finally returned.
The tradition of the Christmas tree, as we know it today, began in Germany in the 16th century, when devout Christians began displaying decorated Christmas trees in their homes. The evergreen tree was meant to symbolize the everlasting love of God. It was apparently Martin Luther—who initiated the Protestant Reformation in the 16th century—who started the custom of displaying lit candles on a Christmas tree. The first mention of the Christmas tree in German literature comes from the year 1774. In Johann Wolfgang von Goethe's novel 'The Sorrows of Young Werther', the protagonist marvels at the sight of a Christmas tree decorated with candles, apples, and candy. Back in the non-literary world, in 1832 a German-born Harvard professor erected a Christmas tree in his home, bringing the tradition to North America. It was from there that—now completely detached from its original religious significance—it spread throughout the whole world.
But how do Christmas trees and decorations make their way into our homes today? That's where the KION forklift brands and supply chain solutions come in, playing a crucial role in delivering a dash of festive cheer to homes the world over.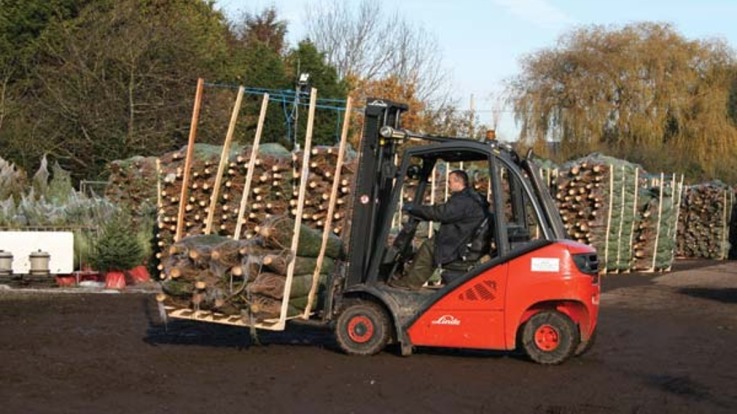 Flexible rental fleet of counterbalanced trucks from Linde MH at the Bristol-based wholesaler Frenchay Forestry.
Rental Trucks for Millions of Christmas Trees
In Germany alone, around 30 million Christmas trees make their way into people's homes each year. In terms of logistics, Christmas tree wholesalers like GROEN-Direkt in the Netherlands have a mammoth task on their hands, as they have just three weeks to transport more than 100,000 individual trees – from the popular Nordic fir to the Norway Spruce – from the forestry companies to countless retail outlets. At GROEN-Direkt, rental trucks from KION subsidiary STILL have the job of loading the trees, as they lend a helping hand during the peak period in November. The modern rental trucks also meet the desired sustainability requirements, with GROEN-Direkt's rental fleet from STILL having exclusively featured electrically-powered forklifts and pallet trucks since 2020.
In the UK, it is KION's sister company Linde Material Handling that takes on the Herculean mission, providing a reliable performance as the long-standing partner of Bristol-based wholesaler Frenchay Forestry. In order to deliver 40,000 Christmas trees to garden centers on time for the peak season, for many years the company has been relying on a flexible rental fleet of counterbalanced trucks from Linde.
Reliable Supply Chains for Christmas Lights and Tree Stands
Once the tree has arrived in your home, the decoration can begin—and each family has its own traditions (and division of labor!). The most important requirement for anyone with a cut tree is a stable tree stand, which you can buy at most DIY stores along with your Christmas tree lights. Forklift trucks and warehouse handling equipment from STILL come in handy here too, keeping the shelves fully stocked.
Stockholm's largest DIY store, Bauhaus (previously known as Fredells Byggvarahus) has to deal with enormous deliveries in the run-up to Christmas. The task of unloading the trucks, which arrive at the store in the Swedish capital on a daily basis, is down to 23 STILL forklifts. At the Globus Baumarkt DIY store in Weinstadt-Endersbach, Germany, they have also been relying on trucks from the KION subsidiary for more than twenty years. With 17 pallet trucks, two high lift pallet trucks, two reach trucks and a counterbalanced truck, the fleet is in use the whole year round. The counterbalanced truck alone unloads up to 40 articulated trucks a day. Especially at Christmas time, the goods include many of the items we rely on to give our Christmas trees a touch of festive sparkle.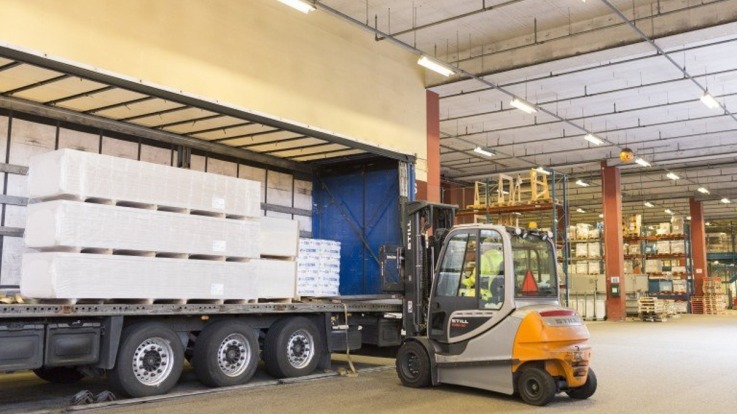 What does a Christmas tree need? A Christmas tree stand and lights, of course. STILL's forklifts help to ensure that these products are loaded safely in DIY stores, like here at Bauhaus.
Automated Systems for Festive Decorations
Once the tree is firmly in place and all lit up, it is of course time to add the decorations. These can be found—along with the traditional Poinsettias, door wreaths and many other items of festive floristry–at stores like Dillewijn Zwapack in Amstelveen, Netherlands. In 2019, KION subsidiary Dematic fully automated the Dutch wholesaler's distribution center, which handles the packaging solutions for the company's flowers and floristry items. The center is home to 14,000 pallets, and up to 300 of them—full to the brim with Christmas tree baubles, etc. during the holiday season—are loaded and unloaded every day.
Even in Australia, where Christmas is in the height of summer, people decorate Christmas trees—including with the range of sparkly baubles and lights from Big W . The discount department store chain has more than 182 branches across Australia and Asia, as well as an extensive online range of homewares and decorative items, and much more besides. In 2012, Dematic set up the company's distribution center in Hoxton Park, Sydney, for which it received both the Australian Supply Chain award and the Logistics Award . The cutting-edge distribution center is home to a series of automated solutions, including Australia's first ever multi-shuttle, which set new standards in the field of automation 'down under'. The new center gets Christmas tree decorations out into people's homes—and onto their trees—faster than you can say "Santa's coming".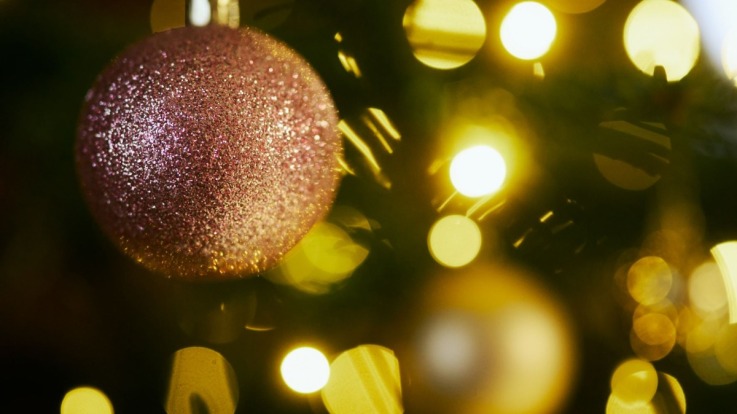 No Christmas tree without Christmas decorations: Dematic automates warehouses worldwide that deliver Christmas tree decorations.
High Lift Pallet Trucks and Forklift Trucks for Treats Under the Tree
The joy of decorating the tree wouldn't be the same without a few tasty festive treats to hand—preferably mulled wine and 'Lebkuchen' (or gingerbread), with the classic aromas of cinnamon and cloves. The wine traditionally used to make the hot festive beverage comes from the south of France, where the wine logistics company SICSOE has been working with rental trucks from Fenwick-Linde since 2016. During the harvest period and times of peak demand, the extra support is a welcome help when it comes to transporting the valuable vines and high-quality wines. What's more—after the first few years of renting, the company decided to purchase several of the trucks, which are now on hand to load the specialties in between the peak seasons, too.
Lebkuchen (or gingerbread) is traditional baked Christmas treat enjoyed throughout Europe. As soon as they are ready, the biscuits are stored in tins, as it takes a few weeks for them to reach their classic consistency and for the delicate flavor to develop. The beautifully decorated tins, which are often kept by families for many years to come, are produced in the main plant of French metal packaging manufacturer Massilly in Cluny. Here, three fully automated Linde L-MATIC pallet stackers are on hand to load the colorful biscuit tins, along with quality metal packaging for many other food items and products. So, it seems Linde Material Handling has a hand in supplying not one but two of the festive treats enjoyed around the Christmas tree each holiday season.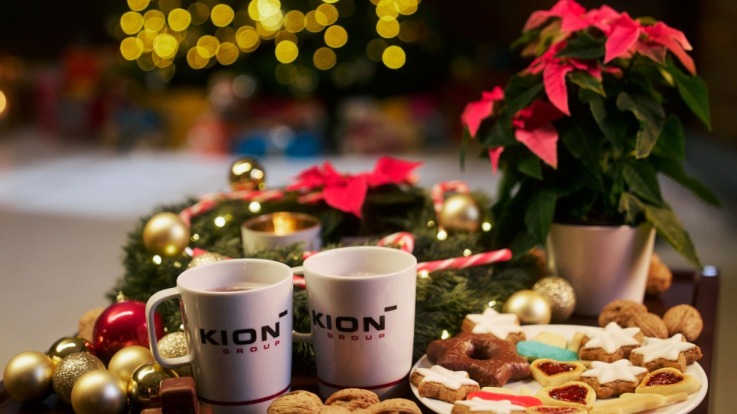 Mulled wine, comes from the south of France, for example. Here, the wine logistics company SICSOE has been working with rental forklifts from Fenwick-Linde since 2016.
Smart Warehouse System is the Bow on Top of the Gift!
When Christmas Day arrives, of course it wouldn't be Christmas without the gifts under the tree—all wrapped up in festive paper and tied with a pretty ribbon. And just like the Christmas tree decorations, at Dillewijn Zwapack in the Netherlands and Big W in Australia, the perfect wrapping paper is distributed by the fully automated systems from Dematic. The ribbons come from gift and decorative ribbon manufacturer C.E. Pattberg GmbH & Co. KG. To provide the best possible support to Europe's largest manufacturer of gift ribbons, in 2018 Dematic installed an AutoStore system at the company's headquarters in Hattingen, Germany, resulting in enormous space savings. While the company used to need 6,000 square meters of storage space, the hundreds of small single items now fill a floorspace of just 170 square meters. The extra room can now be used for other purposes, like preparing large orders for shipping—which is a pretty regular occurrence during the holiday season!
Last but not least, nowadays we often like to tuck a little something under the tree for our much-loved cats and dogs. STILL is also on hand at Europe's leading supplier of pet products, Fressnapf Tiernahrungs GmbH, to ensure that our much-loved pets can look forward to a Christmas treat, too. The intralogistics experts planned and implemented a nine-meter-high pallet racking warehouse with more than 12,000 pallet spaces, as well as supplying an extensive fleet of more than 100 forklift trucks. Fressnapf's logistics center now has the perfect set-up to supply its products right across Europe, putting a wag in the tail of our four-legged family members all year round, but especially at Christmas.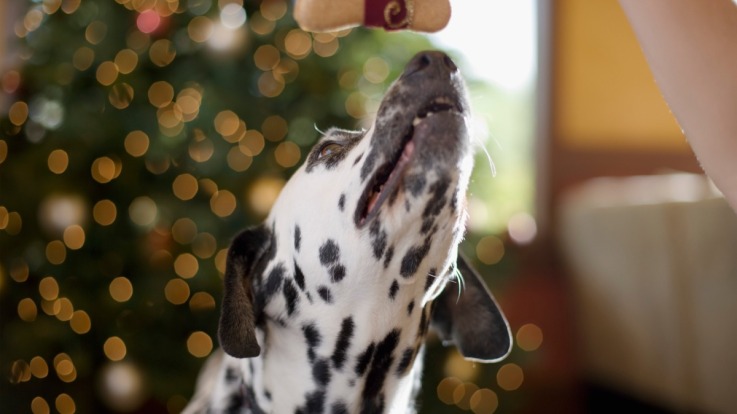 To ensure that the pet can look forward to a present, Fressnapf Tiernahrungs GmbH relies on support from STILL.
As you can see, KION brands are busy at work in all four corners of the globe to make sure that all our wishes come true at Christmas time. We wish you a very happy holiday surrounded by your loved ones—which will hopefully be spent gathered around a beautifully decorated Christmas tree.
Video
The Intralogistics Behind (and under!) the Christmas Tree.