Breathing new life into old trucks
Reconditioning returns the chassis, engine and battery to 'like-new' condition.
Used forklifts proudly wear their battle scars. Yet, they still have much to offer. In Czech Republic, Linde MH EMEA has launched a reconditioning center for used industrial trucks. Its mission is to breathe new life into these battered vehicles for the Central and Eastern European sales region.
The man wearing a protective suit as he blasts huge metal parts looks like an astronaut. It's the only way he can safely work with all the tiny metal balls - no larger than the size of a pin - shooting through the air around him. It is warm in the blast room, full of dust and the smell of metal. After less than ten minutes, the man is finished and steps out of the room. There is not a single trace of dirt, rust or red paint on the chassis of the Linde H30 truck .
The next steps in the process can now move ahead. Josef Slimáček, an operations manager at the new center in Velké Bílovice in southern Czech Republic, has been observing his colleague in the blast room through a small window. "Used trucks are simply notready for the scrap heap," he says emphatically. "Since September 2017, 50 of my colleagues have been preparing candidates like this one for a new life. We can refurbish about 1,000 trucks annually. Eventually, it'll be as many as 1,500, with our plant making a key contribution to Linde Material Handling's sustainability policy."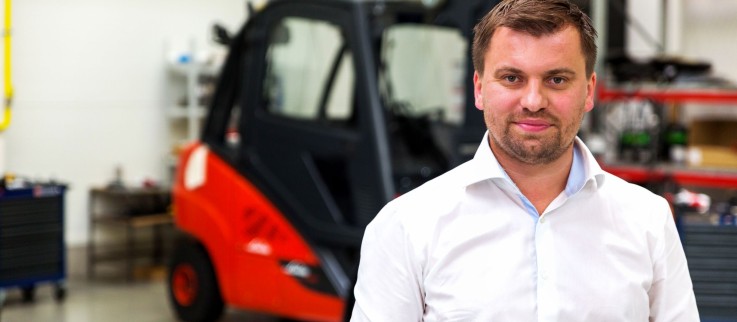 "Used trucks simply aren't ready for the scrap heap."
Everything old becomes new again
Not long ago, the Linde forklift was still in operation in neighboring Austria. It was helping assemble and dismantle the various performing stages at the annual Krone Music Festival, held in the city of Linz. The signs of wear and tear are obvious: dents everywhere, worn tires, rusted nuts and paint scratches. Peter Markschläger, the head of Marketing at Linde Material Handling Austria, says: "The truck's full service contract runs out once it has been in operation for five years at a customer site. That's why it is now here with us for refurbishment."
After the Linz truck was delivered, it got a proper cleaning. "Next comes the inspection," says Slimáček. "We've determined where the truck needs work, the condition of the engine and battery as well as the spare parts that need to be ordered. We only use genuine long-lasting Linde spare parts." Two colleagues then take the truck apart. Within 30 minutes, they have separated all the components as in a back-to-front puzzle: the seat, exhaust, windshield, lights, forklift forks.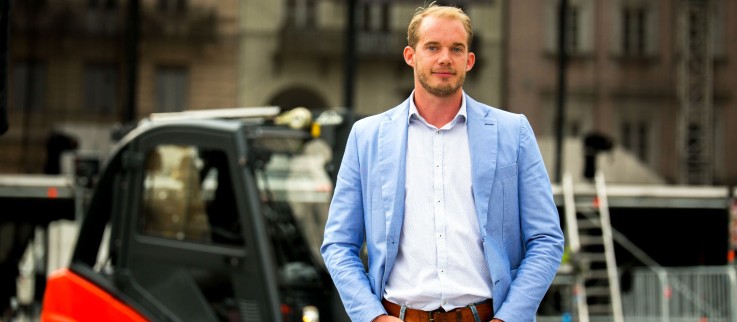 The quality of reconditioning in Czech Republic is so high that customers sometimes ask me whether it really is a used truck and not a new one.
Gallery
As good as new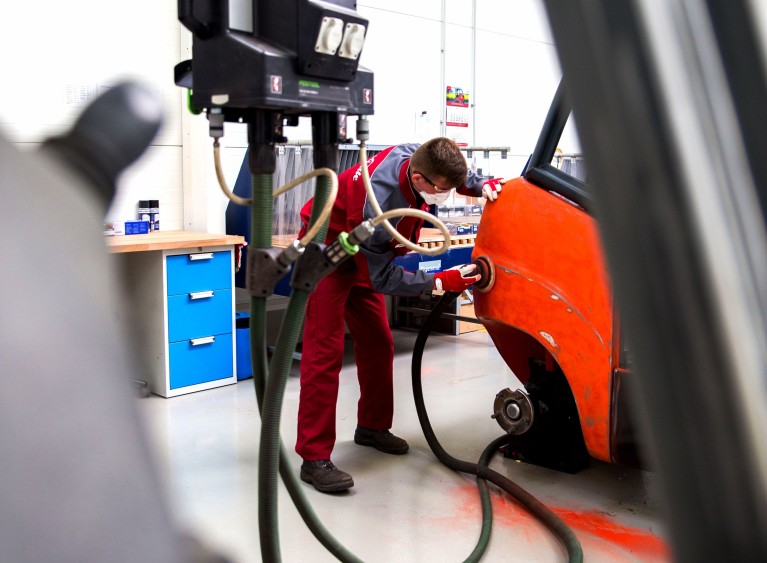 Up to 2,000 trucks can be reconditioned in Velké Bílovice every year.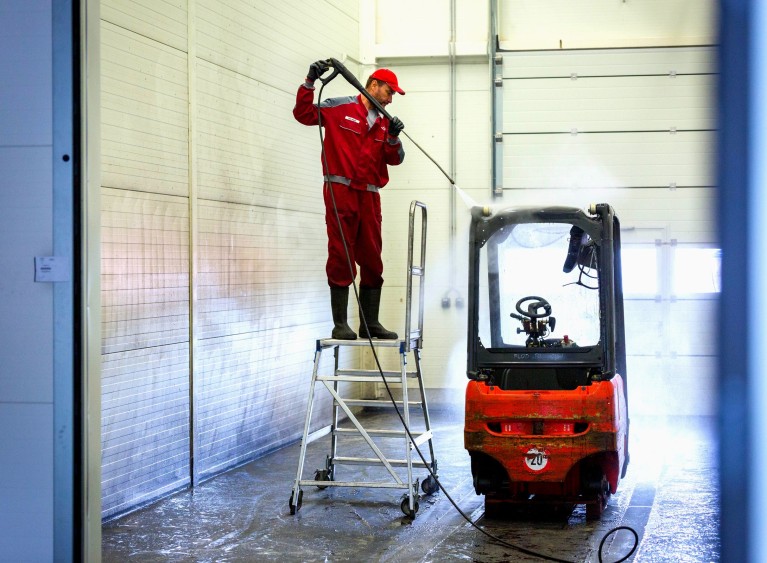 Used trucks are washed after they are inspected.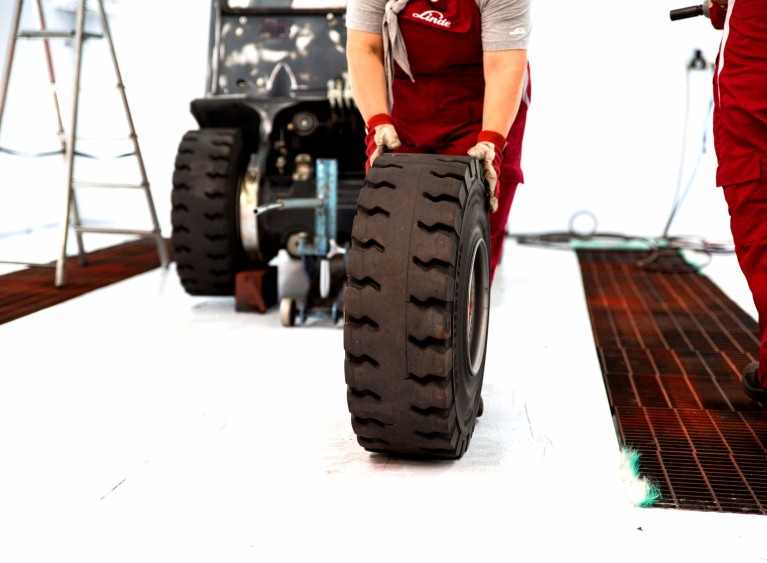 After so many kilometers, the old tires have done their job and are replaced.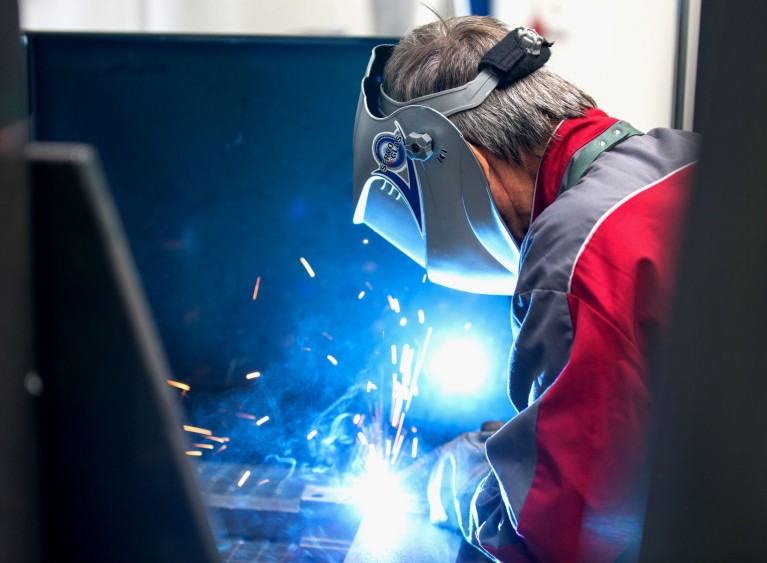 Any age-worn sections get a good going-over with the welding torcht.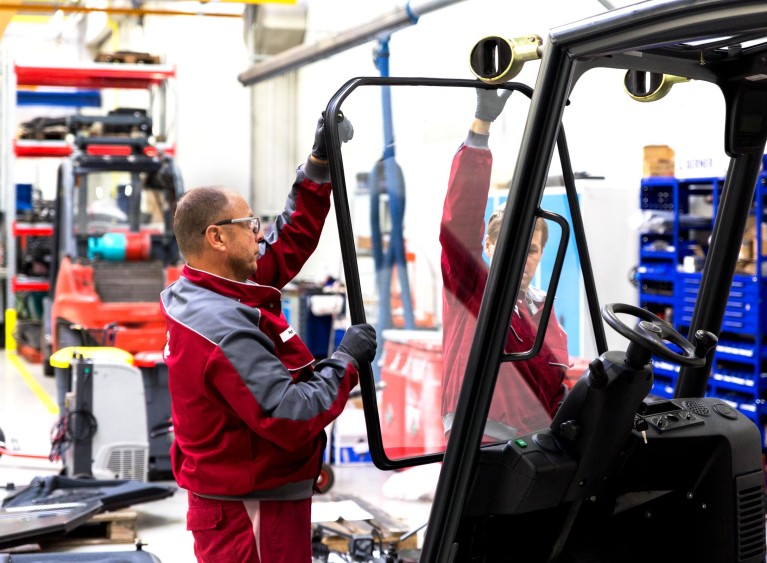 If required, the used truck is fitted with genuine Linde spare parts.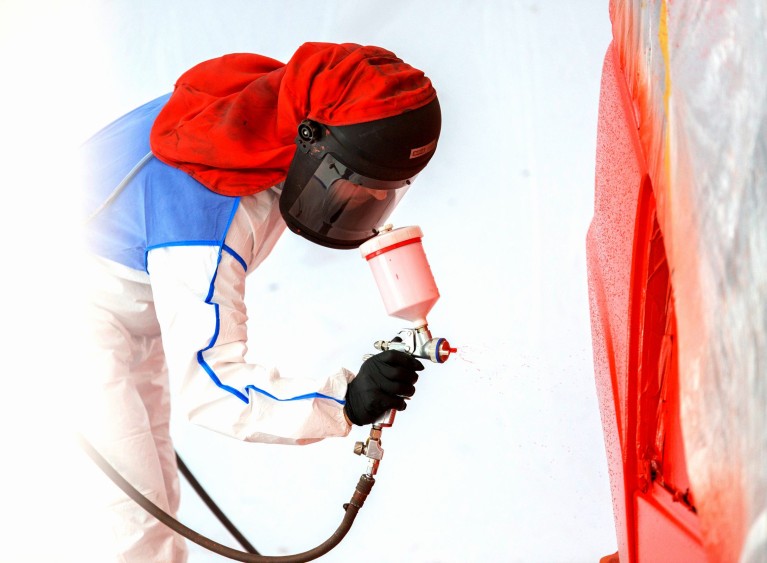 Once the scratches, dents, and old paint on the body have been removed, new paintwork is applied.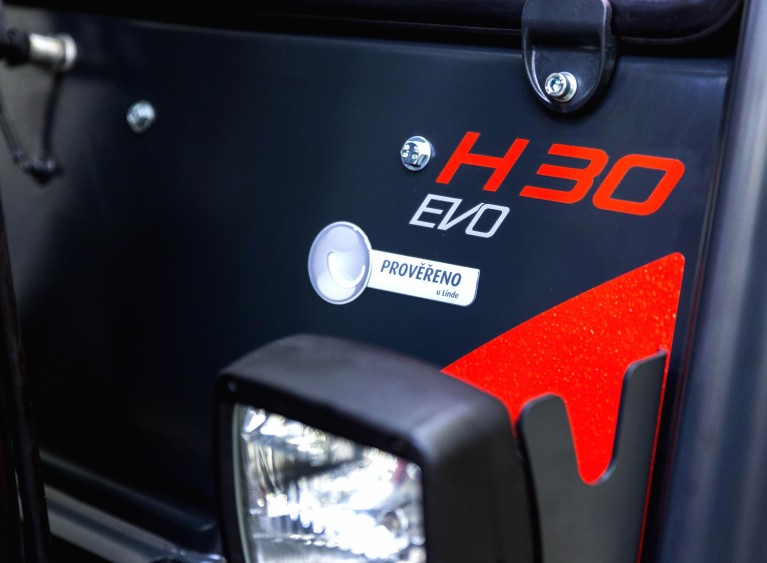 Following the comprehensive final inspection, the trucks are given the 'Approved by Linde' seal.
Ready to return to work
Metal parts have their dents removed and rewelded and dirt and rust are sandblasted off. And once again, a man puts on overalls resembling a spacesuit. This time, though, it's to give the chassis a new coat of paint. All the components are put back together before a final inspection takes place. A gleaming white Linde logo is added as a final touch. Looking as good as new, the truck is then ready to be sold on the used truck market in Central and Eastern Europe.
The trucks stay in Velké Bílovice for an average of four weeks; about nine work days are needed for IC trucks. "The quality of refurbishing in the Czech Republic is so high that customers sometimes ask me whether it really is a used truck and not a new one!" says Markschläger half-jokingly.