Dematic and Linde Material Handling ensure perfect production supplies at the battery systems producer BMZ Group
Collaboration is very important to the KION Group. A joint project between our subsidiary brands Dematic and Linde Material Handling for the BMZ Group, demonstrates how we practice collaboration every day. At the battery systems producer's head office in Karlstein am Main, the two sister companies work side by side with automated systems and powerful industrial trucks to ensure seamless processes – adding a new chapter to the long-standing collaboration between KION and BMZ.
For 25 years, everything at BMZ has revolved around one topic, which, due to climate change is taking on an ever more important role for many industries and technologies: powerful lithium-ion batteries. The BMZ Group has a wealth of expertise in this field. Together with its customers, it develops innovative high-tech battery systems for various areas of application. The broad product portfolio includes batteries for electric bikes, electric tools, medical equipment, and industrial battery solutions to name but a few. Intralogistics is also a significant area of application. For this reason, BMZ has had a long-standing partnership with the KION Group.
KION + BMZ = a strong drive for intralogistics
The battery systems from Karlstein have been used for many years in the STILL and Linde Material Handling industrial trucks. This is because electric forklift trucks have long played a key role at KION: Over the past decade it has sold significantly more than a million electric-powered warehouse trucks and forklifts. And the figures increase every year: In the 2020 financial year, electric-powered equipment represented 87 percent of the incoming orders in the forklift-truck segment at KION. In particular, lithium-ion drives experienced rising demand, since these powerful batteries offer customers numerous advantages: They don't need to be changed and are a cost-effective alternative to the classic lead-acid battery thanks to their short charging times and the ability to partially charge them, which is especially practical for intensive shifts.
From customer to business partner
To meet this growing demand, KION and BMZ set up the joint venture KION Battery Systems (KBS) at the beginning of 2020. In the purpose-built, 4,000-square-meter production hall in Karlstein, more than 12,000 batteries can be produced every year for KION Group industrial trucks on two new production lines. But this is not only a production site, research is also carried out here. The technological possibilities of lithium-ion technology are far from being exhausted and offer many opportunities for further development. The joint-venture partners want to take advantage of these opportunities in future to better respond to customer needs and individual operating features, and to set new standards for drive technology.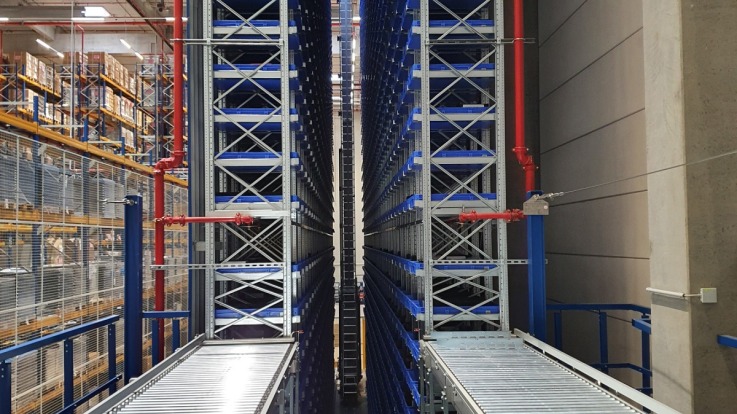 Automated small parts warehouse by Dematic
Combined expertise for the new central warehouse
In BMZ's core business too, the high demand requires perfectly timed and organized intralogistics processes. So, in summer 2021 two KION subsidiaries pooled their intralogistics expertise, to take material flow at BMZ to the next level. By consolidating several warehouses, Dematic installed an automated small parts warehouse (AKL) in Karlstein with materials-handling technology which primarily serves to supply the production lines. In the 23-meter-tall building, the different battery components for production are stored in 2,192 locations and are accurately transported via automated materials-handling technology to production. For supplying production and for removing surplus materials, tractors from the KION subsidiary Linde Material Handling are used as well as their very Narrow Aisle Trucks for loading and unloading the finished battery systems into the 10,000 spaces in the pallet warehouse in the adjacent logistics center.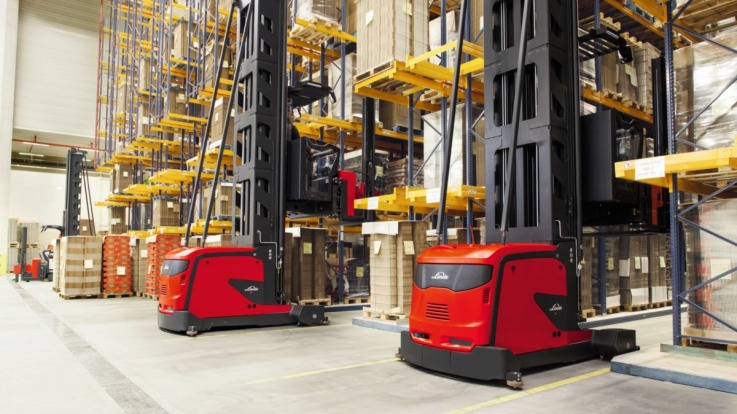 K man-up turret truck from Linde Material Handling
On the first floor, four Pick-to-Light workstations from Dematic round off the integrated approach to logistics. A Dematic materials-flow computer takes care of efficiently managing the materials flow. "This project enjoyed harmonious and positive collaboration between the BMZ Group and the two KION companies, Dematic and Linde Material Handling. This seamlessly led to a model result," explains Thomas Oschmann, Head of Logistics at BMZ Group Karlstein. This is how our long-standing partner BMZ benefits from the combined expertise of the KION brands – and we benefit from improved processes at our joint-venture partner.