KION Group Uses Circular Economy to Conserve Resources
After today, we're living on borrowed time. International "Earth Overshoot Day" falls on August 2 this year, and it's no cause for celebration. That's because this occasion marks the day in the year by which we have used up all the natural resources that the Earth is able to regenerate in one year. To ensure our planet is able to renew itself in the future, we have to be more responsible in our use of resources. The solution lies in circularity, i.e. the circular economy. In this strategic field of action, the KION Group is committed to using renewable resources, developing new concepts for the joint and modular use of products and solutions, extending the service life of our products, and reusing materials.
In just seven months, we have emitted more carbon worldwide than our forests and oceans can absorb, cut down more trees than have grown back, and caught more fish than stocks can recover. Humanity is now living at the expense of future generations—consuming resources at a rate of around 1.7 earths per year—and the trend shows no signs of reversing. (Source: https://www.overshootday.org/)
What are we doing here at KION to counteract this? One key concept in the responsible use of resources is circularity, or the circular economy. KION has set itself the goal of adopting a more responsible approach to the use of resources throughout the product and solution lifecycle, and along the entire value chain.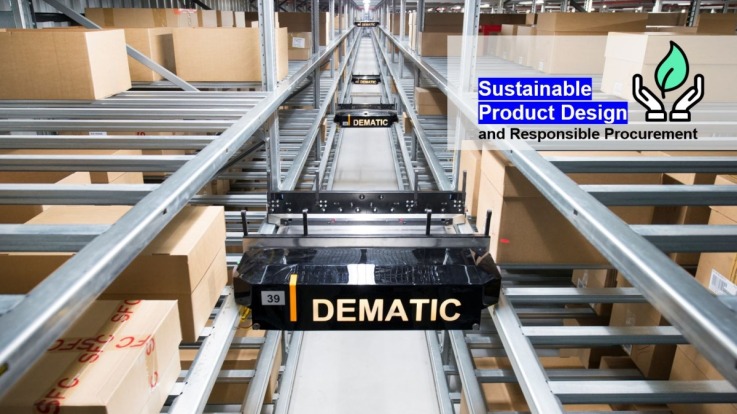 Dematic's Multishuttle, one of the automation provider's best-selling solutions, was the first product to be tested under the stringent Cradle to Cradle® criteria.
Sustainable Product Design at Dematic
The innovation team at KION subsidiary Dematic has been working with the cradle-to-cradle (C2C) principle in their product design since 2021. Cradle to Cradle® describes the safe and potentially infinite circulation of materials and nutrients in cycles. With this approach, all components should be chemically harmless and recyclable. Waste as we know it today, which is generated according to the existing take-make-waste model, will no longer exist under this new model—only useful raw materials.
Susanna Felker, Concepting Engineer Innovation and Project Manager at Dematic, knows the benefits: "Taking a C2C approach to product design provides many opportunities for differentiation and a great deal of innovation potential." In the lifecycle assessment, the first step is to determine the sum of the environmental impacts along all lifecycle phases. Based on the data obtained, steps for optimizing the lifecycle can be initiated, and sustainable products developed.
"If we are already viewing our products as resources for a subsequent product life during the development phase, then this will enable us to design products where the materials used can remain in the technical cycle at the end of the product life cycle and then be used as resources for new products," Felker explains. "And it is precisely this new way of thinking that we want to encourage with our Cradle to Cradle project."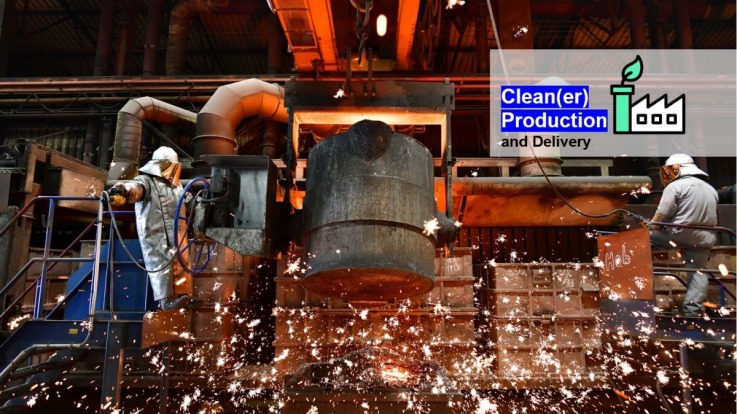 At the Weilbach site, it is not just when selecting materials that sustainability is considered.
Recycled Steel Counterweights for Forklifts
The counterweights for Linde MH and STILL forklift trucks have been produced at the Weilbach site in the Odenwald region for around 200 years. The KION production facility produces 165 counterweights every day. For their production, the Group only uses cast scrap, known as "3A scrap". This comprises metal from old manhole covers, cast iron pipes, cast iron radiators and recycled counterweights. Every counterweight that leaves Weilbach is therefore made from 100 percent recycled cast iron.
In an effort to reduce the site's energy requirements, Plant Manager Frank Koch is trying out various energy sources, including biocoke: "Coke is the current energy source, enabling us to process more than 50,000 tons of metal. Conventional coke is produced from hard coal and is therefore a fossil fuel. Biocoke, on the other hand, consists of biodegradable waste products."
Forklift Sharing in China
Renting is better for the environment than buying, and this approach has been taken at the KION Group's subsidiary Linde MH in China. Back in 2022, Linde MH was the first provider on the Chinese market to introduce forklift sharing as an innovative rental model for industrial trucks. The service offers customers a convenient, fast, cost-effective, and highly flexible intralogistics solution. All customers need for this is an app, which they use to scan the forklift's QR code to gain access to the truck.
They then scan the code again to return the truck once they have finished with it. There are currently more than 100 sharing forklifts available to Chinese customers. Linde MH will continue to adapt the hardware and software for all the main truck types in order to offer customers an even more diverse selection of products for forklift sharing.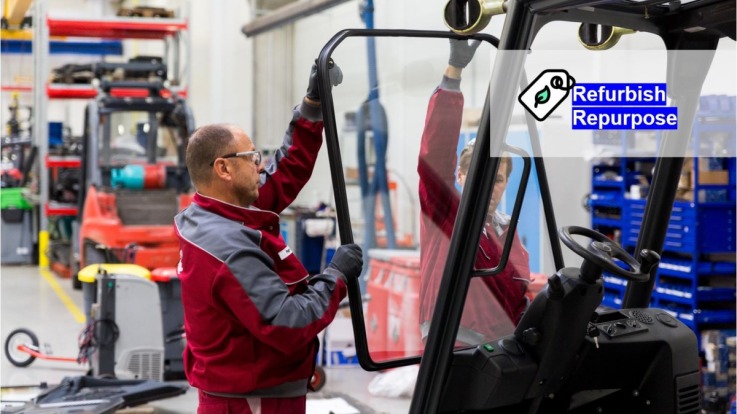 Refurbishment of Industrial Trucks and Batteries
Lithium-ion batteries have a pivotal role to play in the intralogistics of tomorrow: Ninety percent of the industrial trucks currently sold at KION are electrically powered. To keep the forklifts running as long as possible and to ensure sustainable lifecycles, KION repairs its trucks and their power units.
In Poznań, Poland, the KION brand STILL has been refurbishing used forklift trucks, pallet trucks, and warehouse trucks to almost-new standard since back in 2011. Metal parts are hammered down and re-welded, worn tires are replaced, and paint is reapplied. The advantages that used forklifts like these offer customers are obvious: lower price points, immediate availability, and the same high quality as ever.
It's a similar story in Velké Bílovice in the Czech Republic, where KION brand Linde MH refurbishes more than 5000 trucks each year in its Remanufacturing Center, also equipping them ex works with extra features at the customer's request. Baoli's KION China Refurbishment Center in Jingjiang also offers services such as forklift repair and used parts development. This increases the lifecycle of the rental fleet and reduces maintenance costs.
At KION Battery Systems (KBS) in Karlstein am Main, a joint venture of KION GROUP AG and BMZ Holding GmbH, everything revolves around lithium-ion batteries for industrial trucks. When a battery has reached the end of its useful life or is otherwise damaged, it is reconditioned at KBS. This happens around two to three times during their lifecycle. Old batteries are restored to almost-new condition, ready for use again.
Collaborating on Lithium-Ion Battery Recycling
When a battery has finally reached the end of its life, it is sent for recycling. In order to recover the main materials and make the recycling process as sustainable as possible, KION collaborates with the company Li-Cycle Holdings Corp. As part of a two-stage recycling process, the lithium-ion batteries are first transported to "spoke systems" which use Li-Cycle's patented and sustainable submerged shredding technology. This creates an intermediate product, known as "black mass", which contains valuable metals.
The "spoke systems" have a minimal ecological footprint, in part because Li-Cycle does not use high-temperature recycling methods. The second step is a hydrometallurgical process which recovers substances such as lithium carbonate, cobalt sulphate and nickel sulphate from the black mass, which can be reused in new batteries. Li-Cycle's process produces minimal landfill residue, zero wastewater discharge and low air emissions. From the second half of 2023, KION will be recycling its lithium-ion batteries at Li-Cycle in Magdeburg in an environmentally friendly manner.
Circularity is an extensive and interdisciplinary field of action at KION. It contributes to the KION Group achieving its climate target of net zero emissions along the entire value chain by 2050, and provides the basis for a sustainable product and solution portfolio, as well as responsible supply chains.
To calculate the date of Overshoot Day, two main factors are considered: humanity's global ecological footprint and the Earth's biocapacity. The ecological footprint is measured according to the use of resources and the environmental impact of human activities, including the consumption of energy, water, food, wood, and greenhouse gas emissions.
Biocapacity, on the other hand, refers to the Earth's ability to produce resources and absorb waste, such as the productivity of cropland, forests and fisheries, and the capacity to absorb carbon dioxide. Overshoot Day is calculated by dividing the global ecological footprint by the Earth's biocapacity and multiplying by 365 to determine the day of the year on which that ratio is reached.