Apprenticeships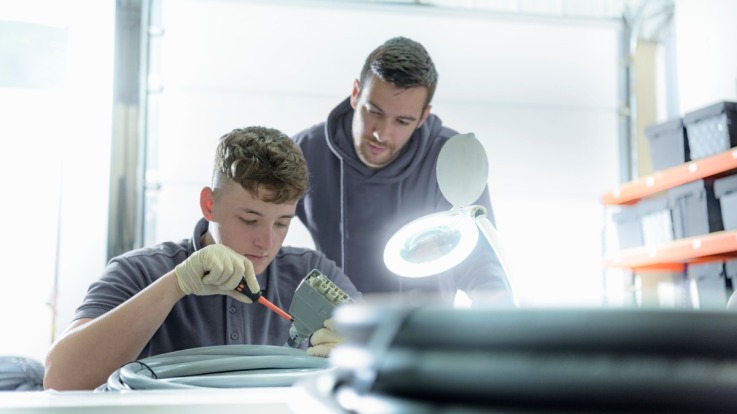 Are you looking for an apprenticeship in a global company?
Around 620 school leavers have an apprenticeship contract with us. We offer apprenticeships for more than 15 professions at our various sites in Germany, including industrial administrator, mechatronics engineer, production mechanic and IT systems electrician, to mention a few. We also offer several programmes combining vocational training with a degree course in partnership with various cooperative universities, such as a bachelor of engineering degree (mechanical engineering) and a bachelor of arts degree (industry).
You need to have the following:

Above-average grades in your school-leaving examinations

A high level of motivation

Good foundation level of business English
Apprenticeships at KION
KION Group IT (KION Information Management Services GmbH), with German sites in Frankfurt am Main, Hamburg, Aschaffenburg and Reutlingen, is a wholly owned subsidiary of KION GROUP AG. KION Group IT is the internal IT service provider for the various companies in the KION Group.
KION Group IT offers apprenticeships in the following professions:
Qualified IT specialist for system integration

Business informatics (vocational training) combined with a bachelor of science degree course in partnership with:
- Nordakademie business school in Elmshorn
- Baden-Württemberg Cooperative State University in Mosbach
The apprenticeships are offered in Hamburg and Aschaffenburg (Germany).
Applications
KION Group IT
c/o KION Information Management Services GmbH
Human Resources
Thea-Rasche-Strasse 8
60549 Frankfurt am Main
Germany
Phone +49 69 20 110 7054
KION Warehouse Systems GmbH in Reutlingen (Germany) is the competence centre for systems engineering in the KION Group. KION Warehouse Systems offers business apprenticeships, commercial/technical apprenticeships and internships for registered students.
KION Warehouse Systems offers apprenticeships in the following professions in Reutlingen:
Industrial administrator

Qualified person for metal work – with specialization construction design

Mechatronics engineer

Industrial mechanic combined with bachelor of engineering degree ('Reutlingen model')
Application
KION Warehouse Systems GmbH
Human Resources
Ernst-Wagner-Weg 1-5
72766 Reutlingen-Mittelstadt
Germany
Phone +49 7127 815 450
Apprenticeships at our brands