China is the largest single global market for industrial trucks, but also accounts for more than 30 percent of the global forklift market. However, it wants to be more than merely the largest market for industrial trucks; the country also wants to promote what it calls, "new mobility", which includes electrically powered vehicles. The KION Group and its brands got an early start as a leading supplier of electrically powered forklift trucks and warehouse equipment and, thanks to their many years of experience, it is well positioned to provide the right solutions to respond to Chinese market needs.
"Made in China 2025" is the Chinese government's development campaign to modernize its own industry. Green manufacturing – or sustainable production – plays a crucial role in the strategy. Interest in electrically powered vehicles is also growing in the industrial truck industry. The plan is to surpass combustion vehicles as early as 2022 and to increase the electric truck share to a forecasted 55 percent by 2025.
The vision: A comprehensive electrification process of all industrial vehicles is not only the response to a short-term trend, but it is also a mandatory step to achieving important changes in the long term. As established experts in intralogistics, KION Group brands, Baoli and Linde Material Handling, offer Chinese customers numerous drive options and a full range product portfolio; they are ideal partners for green manufacturing in all industries and sectors.
Premium products combining efficiency and sustainability
One of Linde Material Handling's customers in China is South China Airlines. Together with Linde MH's products, Asia's largest airline wants to make its logistics more sustainable while improving the quality of its equipment, thus increasing performance. "We offer South China Airlines a complete solution consisting of high-performance industrial trucks with lithium-ion battery and charger," explains Yuhong Lin, a sales consultant at Linde (China).
Take the T20AP electric pallet truck, whose 1.5 kW 3-phase AC motor ensures that the truck always has sufficient power: both for fast starting and high-speed operation. Thanks to its quick-charging system, the electric truck is ideal for both multi-shift operations as well as for the deployment schedules found in air freight warehouses. During the pandemic, the airline opened 'fast lanes' to transport medical equipment as quickly as possible and in an environmentally friendly manner.
Linde MH has been gradually upgrading its entire vehicle portfolio to lithium-ion drive. The advanced drive system is now available for almost all electrically powered series with load capacities up to eight metric tons. Additional equipment options such as the current charging technology and control software round out the high-end sector on the market.
Value segment: The best of both worlds
Another step towards a more sustainable era in China has been the launch of the Linde MH E20/25B electric counterbalance truck. "With this truck, we want to further grow the market by providing the performance benefits of a high-end product but at an attractive price," says Dean Xie, a senior vice president of Sales and Service at KION China. The new vehicle, which has been on the market since this spring, is equipped with a multi-functional display, a dual pedal system and a full cab. Customers can choose either a classic lead-acid battery or a lithium-ion one for the drive system.
More than 400 orders have already been received since the March market launch; a significant response that reflects the enormous demand for value-based products in the Chinese market. "The incoming orders show that we are moving in the right direction with our strategy, which includes expanding the product portfolio in the value segment while increasing the electrification of material handling equipment," notes Xie.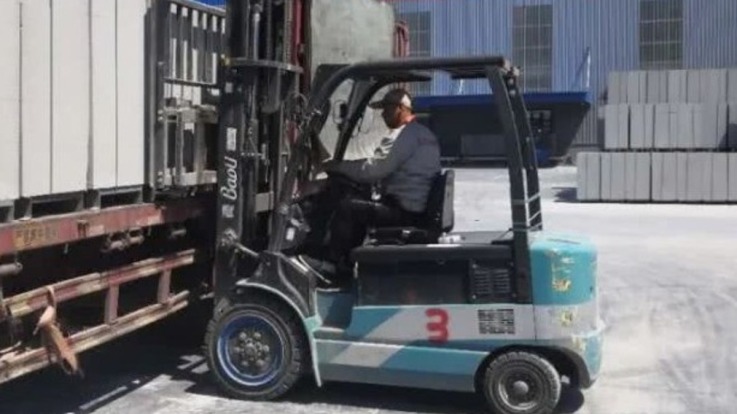 Step-by-step towards sustainable electric mobility
Like Linde MH, Baoli is also finding success promoting its electric forklifts to customers. For a brickyard, the KION brand offered an entire package that included training and a full-service leasing contract. Thus, Baoli can offer customers high-quality, electrically powered vehicles that are environmentally friendly and quieter at the same price as IC engine forklifts.
In China, primarily smaller companies with limited options face the challenge of meeting environmental regulations. "It is important that we accompany our customers as they rethink their journey and that we support them in fully exploiting the long-term economic benefits of electric mobility due to the high savings in fuel and maintenance costs," emphasizes Zhu Xudong, the president at KION Baoli.
Indeed, KION Group brands find themselves moving together with their Chinese customers toward an electrically powered future.