Major project in the USA: Dematic auto-mates two temperature-controlled ware-houses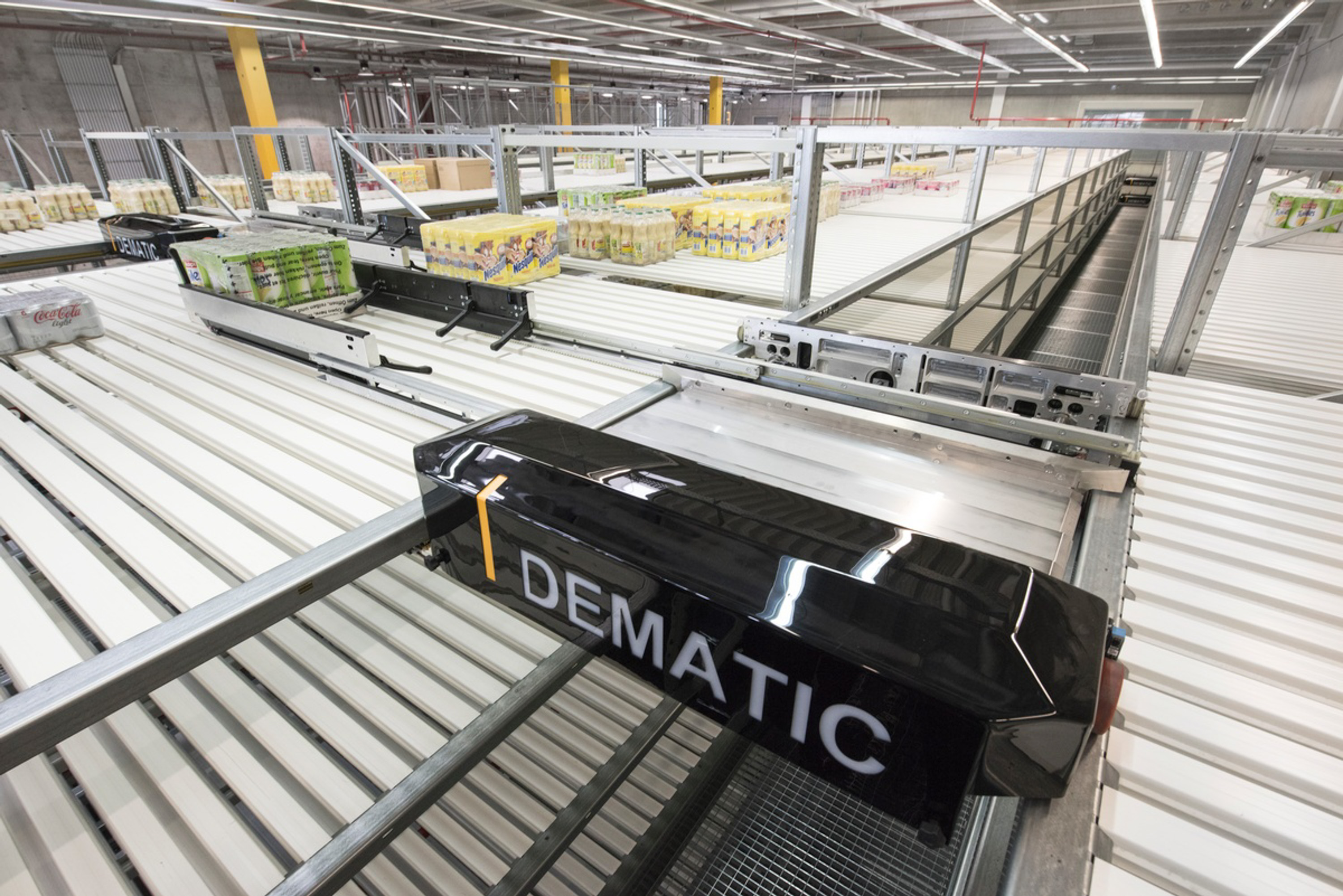 The Dematic Multishuttle ensures buffering and optimized sequencing in dense storage. (Photo: Dematic)
Order from the leading logistics company Americold

Combined solution provides fully automated mixed article palletizing

Dematic iQ software controls omnichannel fulfillment
Heusenstamm / Atlanta, Georgia 16 June 2020 – Dematic automates two temperature-controlled warehouses of Americold Logistics LLC. The leading logistics company based in Atlanta, Georgia (USA) is specialized in temperature-controlled food supply chains and ser-vices. Dematic's integrated solution combines both a Dematic high-bay unit load automated storage and retrieval system (AS/RS) for pallets and a Dematic Multishuttle for buffering and sequencing. The system thus maps the complete supply chain: Goods receiving, au-tomatic delayering, tray handling, sortation, automatic pallet build-ing, dispatch trailer sequencing and ergonomic case picking. The combination of these subsystems is managed and controlled by Dematic iQ software. This makes the solution one of the most effec-tive and compact mixed pallet handling solutions on the market, providing significantly more efficient intralogistics processes for a major Americold food retail customer.
"At Americold we have a unique lens into the temperature-controlled sup-ply chain. In order to provide our customers with superior service, we were looking for an automation partner that could fully map the future hy-per-connected, enabled supply chain in retail fulfillment," stated David Stuver, Executive Vice President of Supply Chain Solutions at Americold Logistics, LLC. "As a provider of innovative automation solutions with large scale global capabilities, Dematic is an ideal partner to help us create state-of-the-art facilities that will help Americold transform the supply chain."
The combined solution of Dematic AS/RS and Dematic Multishuttle ena-bles automated palletizing of mixed cases while ensuring optimal pallet composition for shipping. The result: highly efficiently packed pallets. Americold requires fewer trucks for transport and can stock shelves for the quickest possible due to the shelf-ready pallets.
Bernard Biolchini, CEO of Dematic North America, explains: "The Dematic Competence Center for Food has developed the optimal solution in coop-eration with Americold. The fully automated facilities, powered by Dematic iQ software, will provide immense operational flexibility, supporting omni-channel experiences and drives multi-channel growth".
For further information about Dematic GmbH, go to www.dematic.com/en
About Dematic:
Dematic is an intralogistics innovator which develops, builds and supports intelligent, automated solutions for manufacturing, warehousing and distribution environments. Its customer base includes some of the world's leading brands which are driving the future of retail with installations from Dematic. Dematic's global network of develop-ment centers, manufacturing and service facilities with over 8,000 employees in more than 25 countries has helped with the realization of more than 6,000 customer installa-tions. Dematic, headquartered in Atlanta, Georgia, USA, is a member of the KION Group, a global leader in warehouse automation, material handling equipment, supply chain solutions and related services.
Contacts for Journalists & Editors:
Jessica Heinz
Dematic GmbH
Head of Marketing and Communications CE
Martinseestr. 1
63150 Heusenstamm
Tel: +49 (0)69 583025 125
Cell: +49 (0)172 65 98 590
jessica.heinz@dematic.com
www.dematic.com/de