One-millionth counterbalance truck produced in Aschaffenburg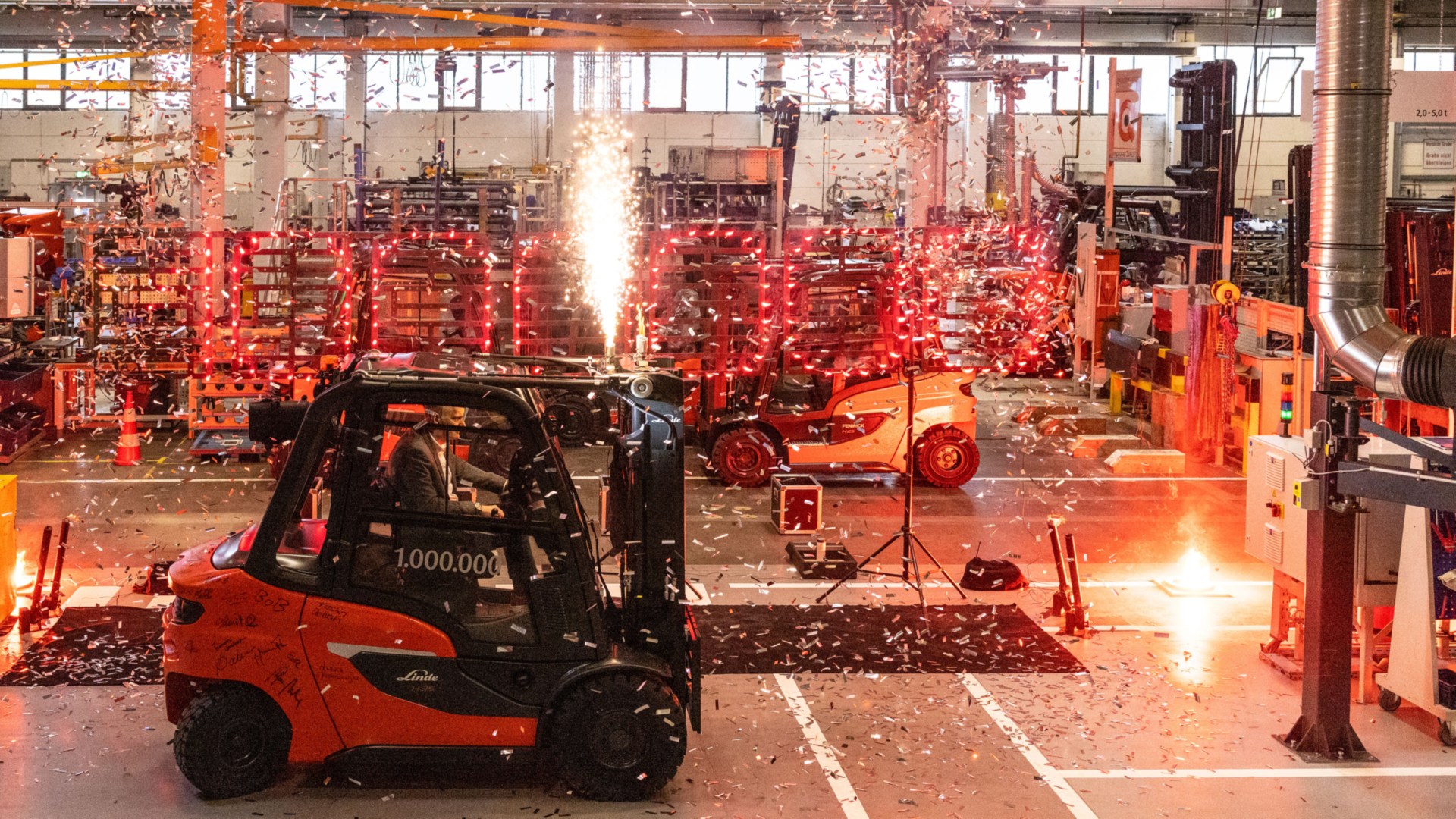 Linde delivers milestone truck to customer in Spain
Aschaffenburg, April 21, 2021 – Linde Material Handling has been manufacturing counterbalance trucks at its Aschaffenburg, Germany production site since back in 1959. In March, the one-millionth vehicle rolled off the assembly line and has since been ceremoniously handed over to customer company Colorobbia España S.A., one of the largest facilities in the world for the production of frits, pigments and other products for the ceramics and glass industry.
Even though big celebrations had to be cancelled due to the pandemic, it was a real goosebump moment when the one-millionth counterbalance truck came off the production line at the Aschaffenburg plant in mid-March. Captured on video for everyone to see, the completion of the milestone vehicle was celebrated with a minute-long indoor fireworks display of red Bengal lights, sparklers, smoke and lots of glitter raining down around the figure "1,000,000". The next day, the latest generation Linde diesel forklift truck with a load capacity of 3.5 tons set off on the journey to its future workplace at Colorobbia España S.A. on the east coast of Spain, with the signatures of all assembly employees written on the back of it. There, it will reinforce a fleet of 60 vehicles. "We have been relying on Linde brand forklifts for 24 years now and particularly appreciate the trucks' user-friendliness and safety," says Gonzalo Trilles de Castro, Managing Director of Colorobbia España S.A. Equally important to him, he says, is a reliable partnership with a company that shares his own philosophy on sustainability, innovation and technology. "All of this is a guarantee of long-term success, which we share with our customers as a competitive advantage." The truck's arrival at the Spanish customer company, which is celebrating its centenary this year, was duly recognized with a specially decorated cake which features sparklers too.
The one-millionth counterbalance truck from Linde Material Handling's Aschaffenburg headquarters represents the latest highlight in its corporate success story, which now spans more than sixty years. With the "Hubtrac", Linde's first forklift truck, the intralogistics specialist offered an industry-defining, technological alternative to the commercial vehicles that had up to then been difficult to operate, usually having a jerky clutch and gear shift. Thanks to the innovative hydrostatic drive, which allowed a double-pedal control to be fitted, this forerunner was ideally suited for retrieving and storing goods or loading and unloading trucks: no shifting was required when frequently driving back and forth, allowing both feet to be able to rest in a relaxed position on the respective pedal. Even back then, this resulted in higher efficiency in goods handling and has remained the hallmark of all of Linde's counterbalance trucks to this day – regardless of whether they are powered by internal combustion engines or electric motors.
Today, Linde Material Handling is once again setting technological standards and making its industrial trucks fit for the future: by means of a wide variety of energy types, intelligent assistance systems and networking as standard. "Our goal is to enable customer companies to make their material flow processes as efficient and safe as possible, so that they will become even more successful in their core business," says Stefan Prokosch, Senior Vice President Brand Management at Linde Material Handling. "With products that convince our customers, we already have our sights firmly set on the next milestone in our company's history – the launch of Linde's new electric forklift generation in June of this year."
Linde Material Handling GmbH
Linde Material Handling GmbH, a KION Group company, is a globally operating manufacturer of forklift trucks and warehouse trucks, and a solutions and service provider for intralogistics. With a sales and service network that spans more than 100 countries, the company is represented in all major regions around the world.
Press contact:
Heike Oder
Tel.: +49 (0)6021 99-1277
E-Mail: heike.oder@linde-mh.de