The Journey is the Destination: Dematic Employee Ji Lock is an Avid Climber
Problem-solving is high on Ji Lock's agenda. As a design estimator for KION subsidiary Dematic, he works with the sales and consulting teams to develop cost-effective solutions. And he's no stranger to setting himself new daily challenges in his personal life, either. As an avid climber, he's always on the hunt for the perfect route to the top.
Decked out in his climbing gear, Ji Lock stands in front of a huge gray wall towering several meters above him. He is looking upwards. His sights are firmly set on the summit, the destination point that he wants to reach. On the way up he must face some challenges to solve the puzzle of the correct climbing route—it's up to him to find the best path. Hold by hold, he works out the ideal route up, until he has reached the summit.
Ji Lock has been a climbing enthusiast for five years—and there are quite a few parallels between his hobby and his job. Every day, this design estimator for Dematic in Singapore is on the hunt for the best route—and the optimum solution.
The term "rock climbing" covers various types of climbing. As a rule, trad climbing is performed on natural rocks with high cliffs, where climbers place their own protection equipment during the ascent. Sport climbing refers to climbing in an indoor center or in the open air, with high walls that can be between five and 30 meters high. Bouldering is all about climbing in a center or in the open air, with small rock formations up to a height of four meters. Only mats on the floor below serve as protection.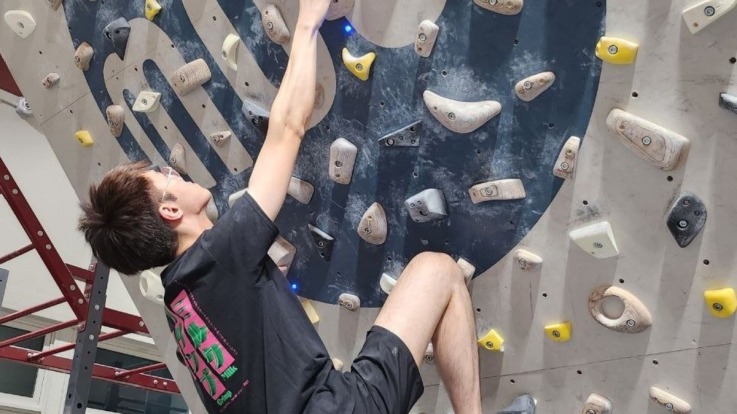 The 27-year-old lives in Singapore with his parents and two siblings. Although he had already come into contact with climbing as a child, Ji Lock's passion for the sport was first ignited when he joined his university climbing club. "I relish the challenge. Climbing is often difficult and sometimes even painful, although I know I can do it. I just have to keep trying until I reach the summit. As the saying goes, climbing is 99% failure and 1% actually reaching the top," Ji Lock says of his hobby. "Plus there are always new things, new techniques to learn and improve on. Not only is it very rewarding when you finish a tricky climb, but I also find that the training process we all go through before we reach the top is equally exciting. No one can take that kind of personal experience away from you."
Ji Lock looks back fondly on memories from his university climbing club. He went on an expedition once to Krabi, Thailand with his fellow club members where together they were tasked with showing less experienced climbers the way and familiarizing them with climbing on natural rock formations. "At the time I didn't have much experience of natural rock climbing, so it was a big challenge for me. Outdoor climbing is actually much more daunting because you feel exposed to the elements. You also feel much higher up than in the climbing center," Ji Lock says as he reflects on his trip. "But standing at the top of those beautiful cliffs at the end of the climb and looking out over the magnificent landscape was fantastic, and such an exhilarating experience. It makes it all worth it."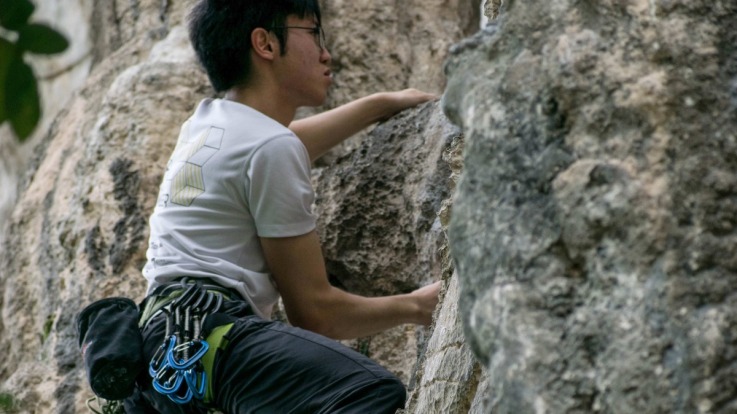 "As Singapore doesn't really have any natural rock formations, we have to travel to neighboring countries to go outdoor climbing, like Malaysia or Thailand. I'm currently planning a trip to Thailand and another to Australia next year. One day I hope to visit Yosemite National Park in the States— I can kill two birds with one stone and also climb there," says Ji Lock. At the moment Ji Lock climbs around twice a week: once on a weekend and again on a weekday after work. He most enjoys climbing with his family or friends. "We're all members of our local indoor climbing center, so we go there together on a regular basis. I think community plays a big part in my love for this sport," he reveals.
"Climbing is an individual sport but you can also do it together. While I'm working on a problem in the climbing center, it's highly likely that others there are trying to tackle the same problem and we all cheer each other on. Working in a team motivates me to perform at my highest level—and this is the case at Dematic, too."