All about digital industrial trucks
With the H20-35 from the 1202 series, Linde MH is set to launch the very first fully digitalized forklift truck on the market. And the trucks produced at fellow KION brand STILL are becoming increasingly digital. But what are the benefits of digital trucks and what does the future hold in store for them?
KION brands Linde MH and STILL have been tinkering with a digital truck, mapping real forklifts in the digital world to simulate, plan and test their use extensively in a virtual environment and thus reduce the risk of errors or malfunctions in real processes. "The digital world is merging with the physical," notes Sebastian Erdmann, Senior Director Digital Solutions & Support at STILL EMEA. But what does it mean for forklift trucks? "Essentially, we have two paths taking us to the digitalized world," explains Stefan Prokosch, Senior Vice President Product Management Industrial Trucks Counterbalance at Linde MH EMEA. Both involve collecting data and improving how it is networked, analyzed and evaluated. These aspects are set to catapult the forklift into previously unexplored territory.
Remote analysis of entire fleets
First let's look at fleet management. The more data the trucks deliver, the more precisely the entire fleet can be managed and steered and the more efficiently it can be coordinated. The basic idea is nothing new; however, in the past, fleet management mainly consisted of individual local applications used primarily by the customer. "In the future, it will be web-based and integrated into an ecosystem," explains Erdmann. STILL, whose trucks can be retrofitted with digital software, recently signed a contract with a major automotive supplier to reduce its fleet by five percent over five years. Thanks to the optimized processes, the goal was surpassed in the first year alone. "The biggest issue was actually quite trivial, but it was because of the digital data collection that we discovered it," says Philipp Schmidt, head of Product Management Applications & Services at STILL EMEA. It turned out that operators were randomly parking their trucks; a problem that was solved simply, yet highly efficiently, by introducing clearly defined parking and handover points.
New consulting approaches
The second big potential benefit offered by the digital truck is the forklift itself. In the past, the forklift reported information only sporadically, or, in some cases, the data had to be exported by the forklift operator or an on-site technician. In the future, the analyst will receive the data at regular intervals or it will be processed automatically using artificial intelligence (AI). In addition, the data records are much more comprehensive. KION Group is moving ever closer to its major goal of providing predictive maintenance, where trucks can be serviced or repaired before they even break down.
All these measures, in turn, lead to new business models, some of which are already being considered by companies outside the industry. "We are developing digital solutions to consolidate our own knowledge and to ensure we don't lose future business to third-party suppliers," Erdmann says, alluding to a similar scenario where car manufacturers are experiencing pressure because IT companies have a knowledge edge including in the development of driverless vehicles. "Customers want solutions. Where exactly they come from is irrelevant," Erdmann says, outlining the challenge facing established companies. In addition, brand-new consultancy approaches opening up and it is now possible to meet customer demands which were previously unrealistic.
"There are many potential applications," confirms Prokosch, including new sensors such as the load sensor, which detects whether a forklift truck is currently making an empty run. "Most importantly, the new generation of forklifts most likely will be able to do things that aren't even on our radar today," says Jens Kocab, head of Digitalization at Linde MH EMEA. It will soon be possible to unlock new functions remotely via software updates. "Going forward, this will allow us to flexibly adapt the functions of a truck in line with customer requirements," adds Kocab. That said, the engineers have deliberately left room for additional hardware as well.
The digital twin
"We're developing a multifaceted approach," says Prokosch, adding, "It's a mixture of hardware, fleet management, and interaction with the customer." It allows us to create a sort of 'digital twin', which is a digital replica of the truck projected onto a screen, which provides precise information about the hardware, software, site, usage and condition of the truck, making it possible to execute a wide range of evaluations. Thus, the notion of a forklift driving through a customer's warehouses or outdoor premises as a digital image is actually on the verge of becoming a reality; if only in a figurative sense.
The digital truck explained
What is digital about it?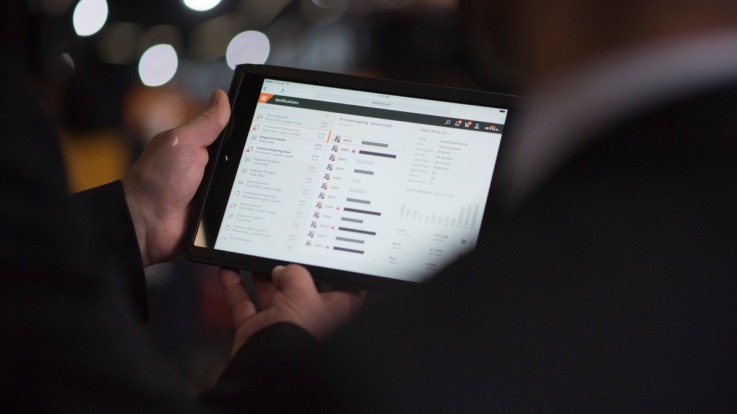 Hardware: In the future, the digital truck will be fitted with the KCU (KION communication unit), which is a standardized piece of hardware for on-board data processing and transmission. The truck is also designed so that it can be retrofitted in the future if more hardware is required for additional functions.
Software: The KCU has firmware which can be updated, much like what most cars have today. Customers will be able to activate various functions in the future, according to their requirements. Examples include information on load management and energy management. Some of these functions were already available, but now they have been integrated, expanded and packaged in a single platform. The software can also be updated via the cloud.
Sensors: There is a wide range of standard and optional sensors available for the digital truck, including acceleration sensors and load-bearing ones. Many of these complement one another. With the load sensor, full runs can be distinguished from empty runs – important for fleet management – and any tilting of the forklift can be counteracted, which is critical for safety.
Cloud Connection: Increasingly, customers are specifically requesting cloud-based solutions. For those who want to employ predictive maintenance or remote diagnostics, or simply want to manage their fleets across all sites, it is essential that data can be viewed from any location. The data relating to the trucks is stored and managed in a standardized and secure way on the KION Cloud.
Connectivity: The future generation of forklifts will be the first ever to 'always on', or always connected and accessible everywhere. It will make many new applications possible since data can now be analyzed, constantly and in real time. The 1202 already has 3G and 4G cards and, eventually 5G will be possible as well. With 5G, data will be completely updated and uploaded to the cloud in real time. All other STILL and Linde MH trucks can be retrofitted with basic functionalities.
How the digital truck Is shaping the future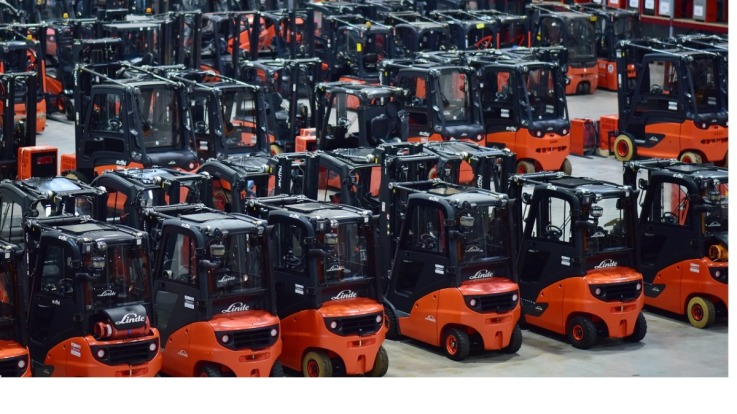 Fleet Management: What forklifts are currently in use, which ones were under-utilized last month and where can more efficient routes be planned? If you want to manage your fleet, you usually want to do it across all locations, and preferably in real time. Fleet management systems such as STILL neXXt Fleet and Linde Connect will process and analyze the data.
Maintenance: Servicing a truck just before a component breaks down – the dream of predictive maintenance is gradually becoming a reality as more and more data can be read remotely for a truck's various components. It is already possible to get a more accurate-than-ever indication of which problems might crop up in the near future. And thanks to artificial intelligence, the potential for analysis is set to multiply in the future. The service technician will then be able to access the truck remotely, via the network, to determine what repairs are required and perhaps even rectify any problems remotely as well.
Energy Management: When does which truck need recharging and how can it get it done without having to queue, disrupt its work, and overload the power grid? With digital fleet data analysis, energy management is efficiently integrated into the fleet's daily routine.
Data Security: The customer retains full control over the data it wants to share. They can also choose to conduct the wide range of analyses themselves, with their data stored safely on the KION Cloud.