Fire Prevention through Oxygen Reduction: Fire Protection for Automated Warehouses
Be it in e-commerce or manufacturing, a warehouse is the hub of any company. In warehouses, all kinds of materials and products are stored closely packed together. For the company, they represent an extremely valuable asset, and one that is worthy of protection. Fire protection experts, however, only see one thing—a huge pile of combustible material stacked densely up to the ceiling. In order to ensure maximum safety in this context, KION's subsidiary brands Dematic and Linde Material Handling use an intelligent fire protection method—they simply cut off the air supply to the fire.
What does it take for a fire to start? Alongside a potent heat source and combustible material, oxygen plays a crucial role. This is precisely where an innovative fire protection concept comes into play, which is particularly suited for use in automated warehouse environments. By reducing the amount of oxygen, you essentially stop the fire from breathing. To do this, all it takes is to reduce the normal oxygen content of the air, which is approximately 20.9 percent, by a few percentage points.
The exact percentage to be reduced depends on the materials present in the warehouse. In all warehouses, much of the material consists of wood, cardboard and polypropylene—present in the vast quantities of pallets, cardboard boxes and plastic containers that are commonplace in these facilities. Among these, cardboard is the quickest to ignite. To keep below the "ignition threshold" for this material, all that is needed is a reduction in oxygen to below 15 percent. Below this threshold, there is not enough oxygen to sustain a fire, which prevents the fire from starting in the first place.
Safety of the Highest Standard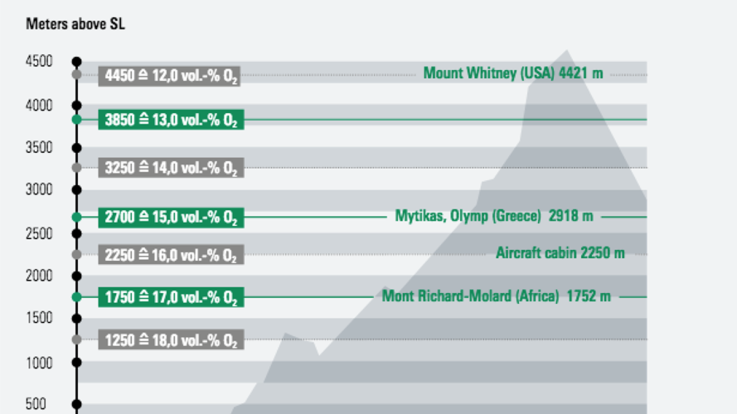 The higher we are above sea level - on a mountain top, for example - the lower the oxygen percentage in the air.
Two things are required to create this safe atmosphere: a sealed building envelope and a technical system for controlled oxygen reduction. A system like this extracts nitrogen from the air, present as a natural component, and directs it into the area to be protected. Oxygen, on the other hand, is discharged into the atmosphere. As a result, the oxygen concentration is lowered to precisely below the specific ignition threshold of the most critical materials present in the warehouse and is kept at this level at all times. At the same time, the rooms remain accessible, since healthy people can manage perfectly well with less oxygen than is present in the normal air they breathe. The oxygen intake in an O2-reduced environment, with 15 percent by volume of the vital gas, is comparable to the amount of oxygen you would breathe in if you were at the summit of Germany's highest peak, the 3000-meter Zugspitze. To rule out any risks, occupational safety measures such as prior occupational medical examinations and regular breaks are provided for when concentrations of oxygen are below 17 percent by volume.
Effective Protection against Fire—and All Consequential Damage
"The first thing that most people think of when it comes to fire protection is a sprinkler system," explains Rainer Buchmann, SVP and Managing Director for Central Europe at KION subsidiary Dematic. "And in many cases, this is the tried-and-tested conventional firefighting solution." The fact that sprinkler systems require large tanks or basins for supply and also storage of extinguishing water to conserve groundwater in the event of an emergency, means that they are not ideal for every warehouse environment. Furthermore, if the height exceeds 40 meters, as is the case with high-bay pallet warehouses, it also becomes increasingly difficult to secure the water supply. "If the sprinkler system is triggered by a fire, it is easy to picture the consequences: The use of water usually causes considerable damage to the technology installed as well as the goods stored in the warehouse."
Therefore, it is important to consider alternative preventive solutions. "In intralogistics, we are currently experiencing two trends that are redefining the requirements for fire protection," explains Buchmann. "Increasing warehouse automation, a trend intensified by the boom in e-commerce, is accompanied by a higher density of goods and consequently a higher concentration of valuable items." As well as ensuring the safety of staff and property, the focus is also increasingly on ensuring facility availability. After all, if a fire breaks out in the warehouse, the processes come to an immediate halt and jeopardize both the ability to deliver and any associated production for a longer period of time. That is why intelligent fire protection appropriate to the individual warehouse is an important part of warehouse planning at Dematic and the other KION brands right from the start.
From IT via Museums and on to Intralogistics
Oxygen reduction was first used as a fire protection measure for computer rooms, IT and data centers. From there, it was adopted in other areas where extinguishing water, foam and powder would irreparably destroy the inventory—for example, in the archives of libraries and museums or in safes where important documents are stored. This system was initially used in intralogistics for warehouses storing paper and hazardous goods. But with the changing conditions of highly automated warehouses, it is also becoming increasingly popular in these areas too.In all these areas, oxygen reduction offers the distinct advantage of actively preventing the fire from starting in the first place. "Active fire prevention combines OxyReduct® oxygen reduction with our early fire detection through aspirating smoke detectors to efficiently prevent the spread of fire, minimize smoke damage and initiate quick countermeasures," explains Torsten Szypulski, Division Sales Manager at Wagner Group GmbH. The Wagner Group has been involved in safety concepts and fire protection for over 40 years and is one of the pioneers of the technology. Their OxyReduct® system is used by renowned companies and institutions around the world: It is used to protect the Magna Carta, and the Gutenberg Bible in the British National Library from potential catastrophic fire damage, as well as the valuable stage sets, costumes and musical instruments used by the Russian Bolshoi Theater. And most recently, it has also been put to use in a premium distribution center set up by Dematic in the United Arab Emirates.
Dematic Sets New (Safety) Standards in Dubai
With the Wagner Group at its side, Dematic has built a new distribution center in Dubai for the Landmark Group. The retail company is one of the largest retailers of fashion and other consumer goods in the Middle East and India. Its new distribution center provides storage capacity for up to two million garments. "Landmark has more than 2000 retail outlets and naturally also serves the online segment. In order to achieve faster and smoother processes, the company has opted for comprehensive automation," Buchmann explains. In addition to the Dematic Garment-on-Hanger (GOH) system, in which garments are kept on hangers ready for dispatch, the largest Dematic Multishuttle system to date with more than 1,200 shuttles is also integrated here. Thanks to automation, Landmark can handle up to 15,000 containers per hour—ensuring record speed in distribution.
A special feature of the facility is the 43-meter pallet warehouse. Some sensitive goods are also stored here in 36,000 pallet spaces. For this reason, the area is both air-conditioned and equipped with the Wagner GmbH fire prevention OxyReduct® system, which not only immediately detects an incipient fire, but also consistently prevents the flames from spreading due to oxygen reduction. After all, even in the case of clothing, the presence of smoke can mean that the goods can no longer be sold. Therefore, any fire must be prevented at a very early stage, and the Wagner Group system ensures that this is the case. "With this system, developed by our cooperation partner Wagner, we have created an impressive concept that provides long-term protection for the stored assets and ultimately also for the company's process reliability," explains Buchmann.
Linde Material Handling Plays It Safe with Food Products Using Oxygen Reduction
Oxygen reduction also offers a lot of advantages in the food sector: Not only does it actively prevent fires, but the nitrogen injected also keeps the stored goods fresher for longer. "When it comes to food and refrigerated storage areas, oxygen reduction is the perfect solution for fire protection for three reasons," explains Frank Heptner, who is responsible for automation solutions in KION's forklift segment. "First of all, temperature-controlled warehouses have a sealed building envelope to begin with, which provides the perfect conditions for oxygen reduction. Secondly, sprinkler systems are impractical in the freezer area because the pipes can freeze without the use of chemicals. And thirdly, in the refrigerated area, employees are usually only on duty for a very short time—if at all." That's why the long-established company Alfrus in Italy also relies on automation in the refrigerated storage area as well as in other areas. To process and store the almond products here, KION subsidiary Linde Material Handling has designed two automated warehouses and planned appropriate fire protection measures right from the outset.
In both warehouses, automated shuttle systems—which are of course perfectly coordinated by the warehouse management software—and automated guided vehicles ensure seamless material flows. In the raw materials warehouse, where the almonds from the world's best growing regions are immediately processed, there is a comparatively high number of employees at work despite the use automated processes, leading Linde Material Handling to rely on conventional fire protection measures here. The processed almond products then pass directly through an automated system to the finished goods warehouse—the heart of the facility. Here, the high-quality goods are stored under ideal temperature conditions for optimum freshness. The nitrogen injected for oxygen reduction also slows down the aging process for the products. This not only keeps the delicious specialties fresh and appetizing, but also protects them from damage caused by fire and extinguishing water. As a result, thanks to Linde Material Handling's comprehensive planning, (process) safety is ensured at Alfrus and end customers are guaranteed to enjoy their almonds—without any hint of a smoky aroma.