General Meetings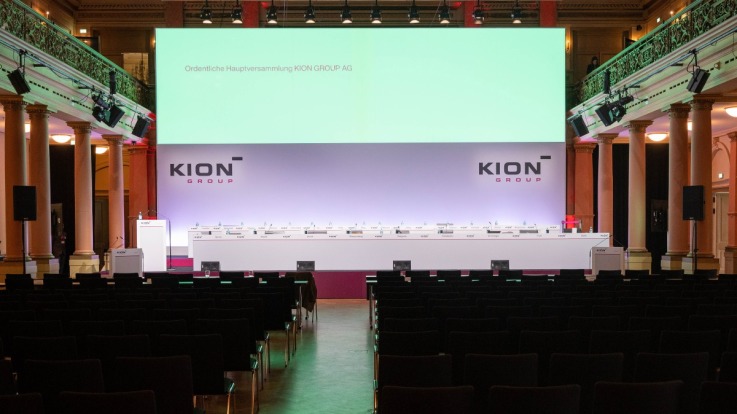 Annual General Meeting 2023
The Annual General Meeting of KION GROUP AG took place at the Gesellschaftshaus Palmengarten, Frankfurt on 7 May 2023.
Video recording of CEO Rob Smith's speech
Information on the Annual General Meeting 2023
Convocation with agenda
which was published on Thursday, 23 March 2023, can be downloaded here.
Documents to be made accessible
Counter-motions, candidate nominations or requests to put items on the agenda
Currently, there are no counter-motions, candidate nominations or requests to put items on the agenda.
Notes on shareholders' rights
Forms for proxy authorizations, instructions and revocation
Please send forms to one of the following addresses (not for postal voting):
Address:
KION GROUP AG
c/o Better Orange IR & HV AG
Haidelweg 48
81241 München
Articles of Association of KION GROUP AG
Information on the details required under the Commission Implementing Regulation (EU) 2018/1212
Location
Address
Gesellschaftshaus Palmengarten
Palmengartenstraße 11
60325 Frankfurt am Main
Directions
The Gesellschaftshaus is located at the southern side of the Palmengarten, at the Palmengartenstraße 11. Parking fee (by hours) is available directly at the Palmengarten below the Eingangsschauhaus in Siesmayerstraße 61. Approx. 5 minutes walking distance to the Gesellschaftshaus through the Palmengarten.
The tube station "Westend" is in close vicinity, as well as the tube, tram and bus stop "Bockenheimer Warte".
Via the connection point Miquelallee, Zeppelinallee, Bockenheimer Landstraße, Siesmayerstraße you reach the Palmengartenstraße 11.
More information on Corporate Governance
The Executive Board and the Supervisory Board are committed to responsible and transparent corporate management and control.
Further relevant information
Shareholders Meetings Archive
Shareholders Meeting 2022
Shareholders Meeting 2021
Shareholders Meeting 2020
Shareholders Meeting 2019
Shareholders Meeting 2018
Shareholders Meeting 2017
Shareholders Meeting 2016
Shareholders Meeting 2015
Shareholders Meeting 2014