Management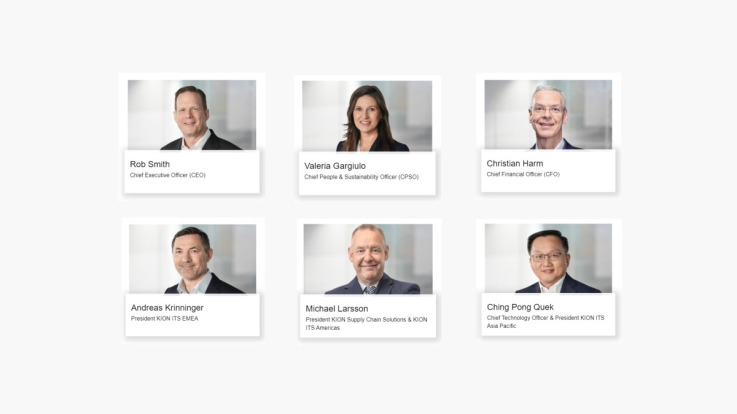 The team of our Executive Board (from left): Andreas Krinninger, CP Quek, Anke Groth, Hasan Dandashly, Rob Smith (CEO), Henry Puhl
Executive Board
Dr. Richard Robinson Smith ("Rob" Smith)
born 1965 in Augsburg (Germany)
Nationality: German / US-American
Career
Since 2022
KION Group, Frankfurt am Main (Germany)
Since 2022
Chief Executive Officer of KION GROUP AG, Frankfurt am Main (Germany)
– appointed until December 31, 2024
2020 – 2021
KONECRANES, Hyvinkää (Finland)
2020 – 2021
President & Chief Executive Officer (CEO) of KONECRANES PLC, Helsinki (Finland)
2013 – 2019
AGCO Corporation, Duluth/Georgia (USA)
2013 – 2019
Senior Vice President & General Manager for Europe, Africa and Middle East of AGCO Corporation, Neuhausen am Rheinfall (Switzerland)
2019
Chairman of the Fendt Supervisory Board of AGCO GmbH, Marktoberdorf (Germany)
2007 – 2013
TRW Automotive, Livonia/Michigan (USA)
2007 – 2013
Vice President & General Manager in the Global Engine Components Division of TRW Automotive, Hannover (Germany)
2009 – 2013
Chairman of the Supervisory Board of TRW Automotive GmbH, Hannover (Germany)
2005 – 2006
Tyco Electronics, (now) Schaffhausen (Switzerland)
2005 – 2006
Vice President, Global Automotive Division of Tyco Electronics, Bensheim (Germany)
2002 – 2005
Bombardier Transportation, Berlin (Germany)
2002 – 2005
Vice President & General Manager, Services Material Solutions of Bombardier Transportation, Mannheim (Germany)
2000 – 2001
Dell Computer Corporation, Round Rock/Texas (USA)
2000 – 2001
Director Materials, Supply Chain Management of Dell Computer Corporation, Austin, Texas (USA)
1994 – 2000
Lucas Industries / LucasVarity / Delphi Automotive
1996 – 2000
Project Management Director of Delphi Diesel Systems Division / LucasVarity PLC, Paris (France)
1994 – 1996
New Product Introduction Manager of Lucas Braking Systems Division, Koblenz (Germany)
1987 - 1991
US Army Officer
Education
| | |
| --- | --- |
| 2001 | Doctorate (Dr. rer. pol.) with dissertation in "International Operations Management", WHU – Otto Beisheim School of Management Koblenz (Germany) |
| 1994 | Diplom-Kaufmann Degree in Business Administration, specialization: 'International Operations Management", WHU – Otto Beisheim School of Management Koblenz (Germany) |
| 1992 | Master of Business Administration, Finance, University of Texas at Austin Graduate School of Business, Austin/Texas (USA) |
| 1987 | Bachelor of Science in Engineering, Systems Engineering, Princeton University, Princeton/New Jersey (USA) |
Other substantial activities
Since 2016
Member of the Board of Directors of the listed FLSMIDTH & CO A/S in Copenhagen, Denmark (non-executive director) -
Since 2016 Member of the Technology Committee (since 2017 Chairman)
Since 2003
Member of the non-listed American Chamber of Commerce in Germany -
Since 2010 Board Director
Hasan Dandashly
born 1960 in Beirut (Lebanon)
Nationality: Lebanese / US-American
Career
Since 2018
KION Group, Frankfurt am Main (Germany)
Since 2021
Member of the Executive Board (President KION SCS) of KION GROUP AG (Germany) and Predident of the Operating Unit 'KION Supply Chain Solutions' (KION SCS)
- appointed until December 31, 2024
Since 2018
President and Chief Executive Officer of Dematic Corp. (non-listed company), Atlanta/Georgia (USA)
1998 - 2017
General Electric, Boston/Massachusetts (USA)
2017
President & Chief Executive Officer Surface / Baker Hughes Integration at General Electric (GE Oil &Gas), Houston/Texas (USA)
2014 - 2016
President & Chief Executive Officer Downstream at General Electric (GE Oil & Gas), Houston/Texas (USA)
2012 - 2013
Vice President, Global Services at General Electric (GE Oil & Gas), Florence (Italy)
2007 - 2012
General Manager Power Generation Services at General Electric (GE Power), Dubai (UAE)
2005 - 2006
General Manager, Technology Development at General Electric (GE Global Research), Doha (Qatar)
2000 - 2005
General Manager, Train Management Systems at General Electric (GE Transportation), Melbourne/Florida (USA)
1998 - 2000
Software Engineering General Manager, Controls and HMI at General Electric (GE Intelligent Platforms), Charlottesville/Virginia (USA)
1983 – 1998
Honeywell International Inc., Morristown/New Jersey (USA)
1993 - 1998
Software Engineering Manager at Honeywell Industrial Automation, Phoenix/Arizona (USA)
1989 - 1993
Software Engineering Manager at Honeywell Avionics, Phoenix/Arizona (USA)
1983 - 1989
Research Engineer at Honeywell Corporate Research, Minneapolis/Minnesota (USA)
Education
1981 – 1983
Master Studies in Computer Science at the University of Minnesota in Minneapolis/Minnesota (USA)
Degree: Master of Science
1978 – 1981
Studies in Computer Science at the Lebanese American University in Beirut (Lebanon)
Degree: Bachelor of Science
Anke Groth
born 1970 in Gelsenkirchen (Germany)
Nationality: German
Career
Since 2018
KION Group, Frankfurt am Main (Germany)
since 2018
Member of the Executive Board (Chief Financial Officer / Labor Director) of KION GROUP AG, Frankfurt am Main (Germany)
– appointed until May 31, 2023
2001 - 2018
E.ON SE, Essen (Germany)
2016 - 2018
Chief Financial Officer of E.ON UK plc, Coventry (United Kingdom)
2015 - 2016
Senior Vice President Investor Relations at E.ON SE, Essen (Germany)
2012 - 2015
Chief Financial Officer of E.ON España S.L., Madrid (Spain)
2007 - 2012
Vice President Mergers & Acquisitions at E.ON AG, Düsseldorf (Germany)
2006 - 2007
Vice President International Management Consultancy at E.ON Ruhrgas AG, Essen (Germany)
2001 - 2006
Project Manager Mergers & Acquisitions at E.ON AG, Düsseldorf (Germany)
2000 – 2001
Vasa Energy GmbH, Hamburg (Germany)
2000 - 2001
Project Manager M&A, Vasa Energy GmbH, Hamburg (Germany)
1997 – 2000
VEW AG, Dortmund (Germany)
1997 - 2000
Trainee and Project Manager Corporate Development at VEW AG, Dortmund (Germany)
Education
1991 – 1996
Studies of Economic Science at the Universities of Dortmund and Bochum (Germany)
Degree: Business Graduate
1989 – 1991
Professional Education at Huber GmbH, & Co.KG, Gelsenkirchen (Germany)
Degree: Management Assistant in Wholesale and Foreign Trade
Andreas Krinninger
born 1967 in Bergisch Gladbach (Germany)
Nationality: Austrian
Career
Since 2011
KION Group, Frankfurt am Main (Germany)
Since 2021
Member of the Executive Board (President KION ITS EMEA) of KION GROUP AG, Frankfurt am Main (Germany);
– appointed until December 31, 2023

Chairman of the Management Board of STILL GmbH, Hamburg (Germany) and President of the Operating Unit 'KION Industrial Trucks & Services EMEA' (KION ITS EMEA)
since 2016
Chairman of the Management Board of Linde Material Handling GmbH, Aschaffenburg (Germany)
2016 – 2020
Member of the Global Executive Committee of KION GROUP AG, Frankfurt am Main (Germany), and President of the Operating Unit 'Linde MH EMEA'
2018 – 2019
Managing Director Production (acting) of Linde Material Handling GmbH, Aschaffenburg (Germany)
2014 – 2018
Managing Director Finance of Linde Material Handling GmbH, Aschaffenburg (Germany)
2011 – 2013
Chief Restructuring Officer of KION Group GmbH, Wiesbaden (Germany)
2007 – 2011
Kohlberg Kravis Roberts & Co. Inc. (KKR), New York (USA)
2009 – 2011
Director of KKR Capstone, London (United Kingdom)
2007 – 2008
Principal of KKR Capstone, London (United Kingdom)
2005 – 2007
Chief Supply Chain Officer & Member of the Executive Boards of GROHE AG, Düsseldorf (Germany)
2001 – 2005
LSG Sky Chefs, Neu-Isenburg (Germany)
2004 – 2005
Global Senior Vice President Product Engineering & Operational Excellence of LSG Sky Chefs, Irving/Dallas (USA)
Member of the Global Executive Committee of LSG Sky Chefs, Neu-Isenburg (Germany)
2003 – 2004
Global Senior Vice President Operational Excellence of LSG Sky Chefs, Irving/Dallas (USA)
1995 – 2001
McKinsey & Company, Düsseldorf (Germany)
1998 – 2001
Engagement Manager at McKinsey & Company, Cologne (Germany)
1998 – 2001
Senior Associate at McKinsey & Company, Cologne (Germany)
1993 – 1995
Research Assistant at the Lab for Manufacturing & Productivity of Massachusetts Institute of Technology, Cambridge (USA)
1991 – 1993
Project Engineer at Heidelberger Druckmaschinen, Heidelberg
(Germany)
Education
1993 – 1995
Studies of Strategic Management & Consulting at MIT Sloan School of Management in Cambridge (USA)
Degree: Master of Science in Management
1986 – 1991
Studies of Mechanical Engineering at RWTH Aachen in Aachen (Germany) / MIT Lab for Manufacturing & Productivity, Cambridge (USA, 1991)
Degree: Diploma in mechanical engineering
Other substantial activities
| | |
| --- | --- |
| Since 2020 | Member of the Advisory Board of the non-listed ebm-papst Mulfingen GmbH & Co. KG in Mulfingen (Germany) |
| Since 2015 | Vice Chairman of the Supervisory Board of the non-listed Linde Hydraulics GmbH & Co. KG in Aschaffenburg (Germany) |
| Since 2015 | Member of the Supervisory Board of the non-listed Schöler Fördertechnik AG in Rheinfelden (Germany) |
Dr. Henry Puhl
born 1970 in Goettingen (Germany)
Nationality: German
Career
Since 2016
KION Group, Frankfurt am Main (Germany)
Since 2021
Member of the Executive Board (Chief Technology Officer) of KION GROUP AG, Frankfurt am Main (Germany) – appointed until June 30, 2024.
Since 2021
Member of the Board of Directors of KION (Jinan) Forklift Co., Ltd., Jinan (People's Republic of China)
Since 2021
Member of the Board of Administration der Linde (China) Forklift Truck Corporation Ltd., Xiamen (People's Republic of China)
Since 2021
General Manager for Research & Development, Purchasing and Quality of FENWICK-LINDE OPERATIONS SAS, Cenon sur Viennes (France)
2021
Executive Vice President Operations KION ITS EMEA;
Member of the Management Board of STILL GmbH, Hamburg (Germany) and of Linde Material Handling GmbH, Aschaffenburg (Germany)
2016 – 2021
President of the Operating Unit STILL EMEA; Chairman of the Management Board of STILL GmbH, Hamburg (Germany)
2016 – 2020
Member of the Global Executive Committee of KION GROUP AG, Frankfurt am Main (Germany)
2009 – 2016
CLAAS Gruppe (KGaA), Harsewinkel (Germany)
2011 – 2016
Member of the Group Executive Board and Managing Director of the Grain Harvest Business Area at CLAAS KGaA, Harsewinkel (Germany)
2009 – 2011
Spokesman of the Management Board at CLAAS Industrietechnik GmbH, Paderborn (Germany)
2008 – 2009
Schaeffler KG, Herzogenaurach (Germany)
2008 –2009
Management of the Ball Bearings Division at Schaeffler KG, Herzogenaurach (Germany)
2002 – 2008
Deere & Company, Moline (Illinois, USA)
2006 – 2008
Factory Manager at John Deere Works Bruchsal (Germany)

2004 – 2006
Managing Director at John Deere India Pune (India)
2002 – 2004
Manager Focus Factory Drive Train at John Deere Mannheim (Germany)
1999 – 2002
ThyssenKrupp Automotive AG, Bochum (Germany)

1999 – 2002
Project Manager in the field of engineering and investments at ThyssenKrupp Automotive AG, Bochum (Germany)
1995 – 1999
Technical University of Kaiserslautern (Germany),
Institute for Manufacturing Technology and Production Systems
1998 – 1999
Senior engineer for the area of business organization / production systems
1995 – 1998
Research associate and project manager industrial projects
Education
1999
PhD program (Dr.-Ing.) at Technical University of Kaiserslautern (Germany)
1990 – 1995
Studies in mechanical engineering at the University of Hanover (Germany)
Degree: Diplom-Ingenieur
1989 – 1990
Military service with the Maintenance / Training Company 6/1, Hanover (Germany)
Other substantial activities
| | |
| --- | --- |
| Since 2021 | Member of the Advisory Board of KION Battery Systems GmbH, Karlstein (Germany) |
| Since 2021 | Member of the Advisory Board of the non-listed JULI Motorenwerk s.r.o. in Moravany (Czech Republic) |
Ching Pong Quek
born in 1967 in Batu Pahat/Johor (Malaysia)
Nationality: Malaysian
Career
Since 2006
KION Group, Frankfurt am Main (Germany)
since 2021
Member of the Executive Board of KION GROUP AG (President 'KION Industrial Trucks & Services Asia Pacific & Americas' (KION ITS Asia Pacific & Americas), Frankfurt am Main (Germany)
– appointed until June 30, 2025
since 2020
Chairman of the Executive Board of KION (Jinan) Forklift Co., Ltd. (non-listed company), Jinan (People's Republic of China)
2019 – 2021
Member of the Executive Board of KION GROUP AG (Chief Asia Pacific & Americas Officer), Frankfurt am Main (Germany)
since 2018
Chairman of the Board of Directors of KION India Pvt Ltd. (non-listed company), Pune (India)
since 2017
Director of the Board of Linde Material Handling Pty Ltd. (non-listed company), Sydney (Australia)
Since 2013
Chairman of the board of Linde Material Handling (Malaysia) Sdn. Bhd. (non-listed company), Kuala Lumpur (Malaysia)
2013 – 2019
Member of the Executive Board of KION GROUP AG (Chief Asia Pacific Officer), Frankfurt am Main (Germany)
2013 – 2016
Member of the Executive Board of KION Group GmbH, Wiesbaden (Germany)
Since 2012
Chairman of the board of KION South Asia Pte Ltd. (non-listed company), Singapore (Singapore)
Since 2012
Chairman of the board of Linde Material Handling (Thailand) Co., Ltd. (non-listed company), Bangkok (Thailand)
Since 2008
Chairman of the board of KION ASIA HK Ltd. (non-listed company), Hongkong (People's Republic of China)
Since 2008
Chairman of the Board of KION Baoli (Jiangsu) Forklift Co., Ltd. (non-listed company), Jingjiang (People's Republic of China)
Since 2006
Chief Executive Officer at Linde (China) Forklift Truck Corp., Ltd. (non-listed company), Xiamen (People's Republic of China)
Since 2006
Chairman of the board of Linde Material Handling HK Ltd. (non-listed company), Hong Kong (People's Republic of China)
Since 2006
President at Linde Material Handling Asia Pacific Pte Ltd. (non-listed company), Singapore (Singapore)
2003 - 2005
Invensys Powerware (previously Eaton Power Quality), Singapore (Singapore)
2003 - 2005
President - Asia Pacific at Invensys Powerware, Singapore (Singapore)
2004 - 2005
Managing Director at Eaton Power Quality China, Shanghai (People's Republic of China)
1999 - 2003
General Electric USA (Industrial Systems), Singapore (Singapore)
1999 - 2003
Managing Director – South East Asia at General Electric USA (Industrial Systems), Singapore (Singapore)
1999 - 2003
Executive Vice President at Fuji/GE Pte Ltd., Singapore (Singapore)
1999 - 2002
Executive Director at Seabanc GE Capital Sdn Bhd, Singapore (Singapore)
1996 - 1999
Country Manager – Malaysia, Thailand & Brunei at General Electric USA (Industrial Control Systems), Kuala Lumpur (Malaysia)
1997 - 1999
Product Leader – Asia at General Electric USA Continental Control (CCI), Kuala Lumpur (Malaysia)
1994 - 1996
Asia Area Manager – Pulp & Paper (USA/Singapore) at General Electric USA (Drive Systems Division), Salem (USA)
1992 - 1994
ABB Industrial & Building Systems, Kuala Lumpur (Malaysia)
1993 - 1994
Department Manager at ABB Industrial & Building Systems, Kuala Lumpur (Malaysia)
1992 - 1993
Sales Engineer / Product Specialist at ABB Industrial & Building Systems, Kuala Lumpur (Malaysia)
Education
1997 – 2000
Master Studies at the Royal Melbourne Institute of Technology University in Melbourne (Australia)
Degree: Master of Business Administration (International Management)
1986 – 1992
Studies of Mechanical/Aeronautical Engineering at the University of Technology in Johor Bahru (Malaysia)
Degree: Bachelor of Science (Honours)
Other substantial Activities
| | |
| --- | --- |
| Since 2020 | Member of the Board of Directors of Shanghai Quicktron Intelligent Technology Co., Ltd. (non-listed company), Shanghai (People's Republic of China) (non-executive Director) |
| Since 2019 | Member of the Board of Directors of the non-listed company Zhejiang EP Equipment Co., Ltd., Hangzhou (People's Republic of China) (non-executive Director) |
| Since 2018 | Chairman of the APAC Advisory Board of Euro Asia Consulting Co., Ltd. (non-listed company), Shanghai (People's Republic of China) (non-executive Director) |
| Since 2017 | Member of the Board of Directors of Lansing Bagnall (Aust.) Pty. Ltd. (non-listed company), Huntingwood (Australia) (non-executive Director) |
| Since 2012 | Member of the Advisory Board of Fujian JULI Motor Co., Ltd. (non-listed company), Putian (People's Republic of China) |
Additional Information in our Online Annual Report
Supervisory Board
Dr. Michael Macht
Chairman
Shareholder and Member of the Supervisory Board, Endurance Capital Aktiengesellschaft, Munich (Germany)
Özcan Pancarci *
Deputy chairman
Chairman of the works council of plants I & II of Linde Material Handling GmbH, Aschaffenburg (Germany)
Chairman of the group works council of KION Group
Birgit A. Behrendt
Former Member of the extended Board of Directors (Corporate Officer), Ford Motor Company, Dearborn, Michigan (USA)
Stefan Casper *
Chairman of the works council of KION Warehouse Systems GmbH, Reutlingen (Germany)
Dr. Alexander Dibelius
Managing Partner of CVC Capital Partners (Deutschland) GmbH, Frankfurt (Germany)
Martin Fahrendorf *
Chairman of the works council of Dematic GmbH and Dematic Services GmbH, Heusenstamm (Germany)
Jiang, Kui
President of Shandong Heavy Industry Group, Ltd., Jinan (China)
Chairman of the Asia Pacific Committee at KION GROUP AG, Frankfurt am Main (Germany)
Jörg Milla *
Chairman of the works council of STILL GmbH, Hamburg (Germany)
Olaf Kunz *
Trade Union Secretary at the IG Metall Executive Board, Frankfurt am Main, Germany (since 2021)
Dr. Christina Reuter
Head of Central Manufacturing Engineering & Operational Excellence at Space Equipment Operations bei der Airbus Defence and Space GmbH, Taufkirchen (Germany)
Hans Peter Ring
Senior Advisor, Munich (Germany)
Alexandra Schädler *
Trade union secretary of the Managing Board of IG Metall, Frankfurt am Main (Germany)
Dr. Frank Schepp *
Senior Vice President Operations Linde Aschaffenburg & Head of Production Unit Counterbalance Trucks KION, Linde Material Handling GmbH, Aschaffenburg (Germany)
Tan, Xuguang
Chairman of the Board of Directors of Shandong Heavy Industry Group Co. Ltd., Jinan (China), and of China National Heavy-Duty Truck Group Co., Ltd., Jinan (China)
Claudia Wenzel *
Full-time works council member, HQ and plant 2 at Linde Material Handling GmbH, Aschaffenburg (Germany)
Xu, Ping
Partner and member of the Management Committee of King & Wood Mallesons, Peking (China)
* = as representative of the employees
Status as of: 08 April 2021
Additional Information in our Online Annual Report
Organization
Group structure
The KION Group has three segments, representing our product categories and our internal services.
The first segment – Industrial Trucks & Services (ITS) – comprises the Operating Units KION ITS EMEA, KION ITS Asia Pacific, and KION ITS Americas. They are responsible for manufacturing, sales, and the service network for our brand companies Linde Material Handling, STILL, Baoli, Fenwick, and OM.
The second segment focuses on Supply Chain Solutions (SCS) from the KION SCS Operating Unit, which are also available to our customers through a global network. Our Dematic brand is a global leader in warehouse automation
The third segment is made up of our overarching Corporate Services. This is where we bring together our internal service units, from KION Digital, through which we are further expanding our innovative strength, to KION Group IT and KION Financial Services.
Key figures at the Online Annual Report
Corporate Governance
The Executive Board and Supervisory Board of KION GROUP AG are responsible for the company in accordance with the statutory provisions for stock corporations in Germany. This also includes the obligation to act within the principles of an exacting system of corporate governance that follows recognized standards. We believe these principles are essential to the Company's long-term success. Compliance with them also increases the trust that our investors, employees, business partners, and the public have in the management and supervision of the Company. An extensive corporate governance report is an integral element of KION GROUP AG's annual reports.
Declaration of Conformity (the comply-or-explain statement)
Every year, the Executive Board and the Supervisory Board of KION GROUP AG submit their declaration of conformity (comply-or-explain statement) relating to the recommendations of the German Corporate Governance Code government commission pursuant to section 161 of the German Stock Corporation Act (AktG). It is available for download here.
Declarations of Conformity (Comply-or-explain statements)
Sustainability
We are moved by sustainability.
It is our ambition to be the best at understanding our customers' requirements and to provide them with safe, efficient and innovative logistics solutions specific to their needs. A key factor to this mix is sustainable business. All of our actions are guided by environmental, social and commercial aspects. We also help our customers to implement their sustainability programs, thus ensuring that a crucial ingredient for their success is also in place.
As a company operating all around the world, we have corporate social responsibility toward our customers, employees, financial backers and the general public. This corporate social responsibility requires us to comply with all applicable laws, to respect ethical values and to act in a sustainability-oriented manner everywhere and at all times.
Code of Compliance - Additional languages
Compliance Principles
Principles for independent sales partners
Compliance Management System
Code of Compliance & Policies
The KION Group Code of Compliance (KGCC) covers all aspects of compliance that are relevant to us, and provides the framework for everyone in the Group. The KGCC applies to all sites around the world, to all business segments, and to our interactions with employees, customers, and business partners.
Compliance risk analysis
Our compliance measures are defined and prioritized on the basis of company-wide compliance risk assessments.
Compliance training
Our employees learn about the basic principles of compliance in web-based training sessions, which also raise their awareness of the specific legal risks that we face. Classroom-based training on particular compliance topics is targeted at specific groups.
Compliance contact
Our employees and third parties can contact our compliance team with any compliance-related queries.
Whistleblower system
Potential infringements of laws or of our regulations can be reported through an anonymous and confidential external whistleblower system or via internal channels.
Compliance investigations
The implementation of, and adherence to, compliance requirements is regularly audited by Group Internal Audit and monitored by Corporate Compliance and the Compliance Committee.
Compliance reporting
For the purposes of compliance reporting, a survey is regularly conducted across the entire KION Group to check whether compliance requirements are being fulfilled. The results provide the basis for the Chief Compliance Officer's report to the Executive Board and the Chair of the Supervisory Board's Audit Committee.
Compliance communication
Employees are regularly kept up to date with compliance-relevant matters through a range of internal guidelines, training, and the KION Group social intranet.
Compliance Organization
Whistleblower System
Reliable reporting channels for internal and external interest groups help to ensure that any potential misconduct is reported, thoroughly investigated, and resolved.
The KION Group offers a variety of reporting channels to internal and external whistleblowers in order to facilitate the identification of potential compliance breaches.
If you have specific, substantiated evidence of a severe breach of the law or of other regulations at KION Group or one of our subsidiaries, or have reason to suspect that one has occurred, then you can contact the relevant compliance department using the following methods:
By email to:
comkiongroupplianckiongroupe@kiongroup.com
By post to:
KION GROUP AG
Corporate Compliance
Thea-Rasche-Strasse 8
60549 Frankfurt am Main
Germany
KION GROUP AG will follow up all tip-offs, and we guarantee the utmost confidentiality and fairness toward the whistleblower during our investigations. This also applies to any employee who may be under investigation.
Compliance Hotline (anonymous)
In addition to the contact methods mentioned above, there is also an external whistleblower hotline:
Anonyme Compliance Hotline